Construction projects are becoming more complex. Large projects typically take 20% longer than estimated and can run up to 80% over budget.
Despite these challenges, leaders have been reluctant to adopt new technologies to improve efficiency.
In fact, construction is one of the least digitized industries in the U.S with productivity remaining flat for the past two decades.
But, leaders are finally starting to embrace technology. They're ditching spreadsheets, whiteboards, and emails for new platforms and automation.
Let's look at why leaders are changing their ways and how you can prepare for your own digital transformation.

Construction IS Changing
Why has construction been slow to digitize?
Part of the reason is the wide range of variability between projects. With a number of moving pieces and people involved, it's not a simple transition from current processes to digital. And software of the past didn't always measure up.
But, the industry is now at a tipping point. The rise in urbanization and commerce is increasing the demand for homes and offices. And there's pressure to build fast, safely, and under budget.
To keep up, many leaders are being forced to digitize their process or risk being left behind.
But launching new technology means change, which naturally feels risky. It's left many leaders feeling unsure about the best path forward. You could be asking questions like:
Where should we even start?
Will my team actually use tech?
What efforts are needed to maintain digital platforms?
What opportunities and pitfalls will a new process reveal?
And ultimately,
How can I measure a return on the investment in software?
Don't Fear Change
For some, digitization seems too daunting or not worth the risk or effort.
Your teams are comfortable using tried and true processes like paper forms, whiteboards, or spreadsheets for everyday tasks. What's the harm in keeping them?
But these methods are just barely getting your jobs completed. And they inherently lack the scalability and collaboration needed to compete on future projects.
If you want to be efficient and positioned for growth, you need consistent workflows only achieved through automation and technology. Digitization can reduce bottlenecks and offer real-time data for better decision making through management dashboards, field data collection, safety and compliance, and more.
For example, when considering which workers are right for a job, a manager needs to review many variables in that moment to select the right worker. Technology can upgrade your job board from a whiteboard to a real-time interactive dashboard like below.
See how contractor Andy J. Egan uses this dashboard to manage job assignments for a workforce of over 300 skilled laborers.
So, how do you adopt technology like this and more?
Follow these steps to plan for and implement digital tools.
1. Get Buy-In from the Team
Before you start evaluating and buying software, you must have total buy-in from your stakeholders. Does everyone agree that software will improve operations and help your bottom line?
This is the single most important step in any digital transformation. When overlooked, your project is doomed from the start.
But how do you get buy-in? Ask key users from each department for their input on what changes would make the biggest impact on their work.
Gathering input from your team not only gives you insights into your operations, but it also gives stakeholders a sense of shared ownership of the project.
Use this guide (with worksheet included) to discuss and capture insights from your team about what your software project should include.
When gathering feedback, listen for examples that will translate to measurable time savings, better collaboration, and more accountability through data.
Then, before launching any solution company-wide, use a "Phase 1" rollout to these users, again asking for feedback.
What works best?
What changes do they need?
What does the data show?
Involving key users early and often in a software project ensures their adoption of the new tool. They'll feel important to the success of the project, while helping build a tool that actually helps them with their jobs. I
It's also your best way to achieve ROI on any software project.
SPARK Tip: Assign an internal champion for your new software project Their main responsibilities will be keeping your team committed to a project and managing communication between any stakeholders.
2. Understanding your big picture strategy
Once you have total buy-in, you're ready to start envisioning the changes you want to make.
Start with the "why" of the project. What's the big picture strategy? How do you wish your process and operations were? How can software help you get there?
Most of the time, digitization is focused on real-time data sharing to improve decision-making.
For example, relevant information is often known to project managers but isn't known or even available to anyone else. Sometimes it's on a local server or paper. Or, it exists only in an employee's head. But what happens when a manager is sick or unavailable?
The crazy thing that we've found is that 90 percent of the time, background process information is just in the employees' heads. So key decisions are being made by just going off of memory.
-Suzanne Motter, Vice President, SPARK Business Works
One way to improve is by using digital dashboards that report on required tasks and statuses for each phase of a job. Anyone can access this real-time and accurate data when needed.
And when planning your own digitization, design with few user types in mind based on organization roles (instead of individual people).
For example, project managers should have transparency into other PM's jobs and crews so that they could easily get up-to-speed and help when needed. On a data dashboard, custom filters can keep the most important data front-and-center while auxiliary information from other projects sits just a click away.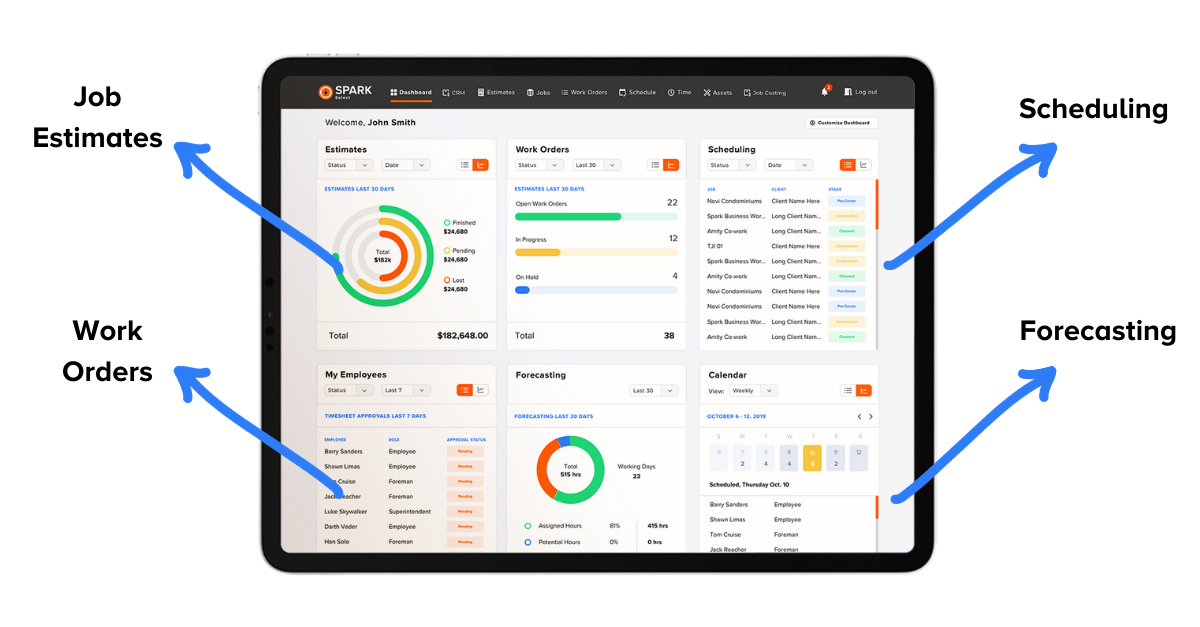 3. Outline Your Current Operations and Process Pains
With your strategic plan as your guide, you can start looking at what pain points need the most attention first.
How do you find them? Start by outlining your current business processes and other company logic in detail.
Fleshing this out first can give you a clear sense of repetitive and inefficient employee tasks that are slowing you down and causing issues like:
Using paper forms for time entry, T & M, safety, dailies, etc
Managing scheduling changes and issues
Manually transferring data from one system to another
Piecing together costing and job reports
Manual alerting to changes in project status that aren't timely
Events that cause workers to stop what they're doing and seek information
SPARK Tip: Include your employees during the outlining process. Their input can give you new ideas for improvements in how work is done.
4. Prioritize Processes to Automate
While you're outlining every process to be digitized, you might be tempted to jump in with both feet and change everything at once.
But, we recommend you start small.
Identify the small and easy changes that will make the biggest impact and put them at the top of the list to automate first.
These small successes will create champions for change on your team who will lead the adoption and provide valuable input for future iteration.
To get the fastest return, look first for repetitive and inefficient tasks that employees complete regularly.
Learn more about what a minimum viable product (MVP) is and how you can use this mindset to launch effective software faster.
5. Update your current IT infrastructure
Before you implement new software, you should take a step back and look at your current IT infrastructure. How sound is it? What can you upgrade in preparation for digitization?
Attempting a digital transformation with an outdated IT infrastructure is like doing a major home renovation without checking your home's foundation first. If it's structurally unsound and failing, it can cause major problems that could have been prevented.
To avoid this, you should consider your current infrastructure and make any necessary upgrades early in your project. This could include:
Moving platforms and processes to the cloud
Upgrading computing hardware like laptops
Following cybersecurity best practices
Upgrading business software (ERP, CRMs, accounting, etc)
If you need help managing your infrastructure, you can turn to a Managed Services (MSP). They're an outsourced IT-provider that manages part or all of your infrastructure needs.
Outsourcing can be a cost-effective approach that gives you a peace of mind that your critical business systems are monitored and attended to, without investing in a full-time internal team to handle it.
After all, you're an expert in construction (and you want to keep it that way).
Read more about why you should update your IT infrastructure before implementing new software.
6. Evaluate Software Solutions
When evaluating different construction software solutions, you'll find there's no shortage of options available. Technology is more accessible than ever for all types of use cases and budgets.
And you'll quickly realize that you'll need to choose a software approach:
Off-the-shelf – Pre-built software that's quick to implement and adopt
Fully Custom – Custom-built software built to your exact needs
Each approach has its advantages and disadvantages. But as you're making your decision, be sure to consider how it will affect your business over the next few years. A decision driven by cost and quickness could make less sense in two years.
This mindset is why many construction companies choose to build custom software over buying off-the-shelf. Custom software gives you full freedom to customize the software to meet your exact project management needs. And you'll be able to scale the software as you need.
Learn more about you can build custom apps, dashboards, and workflow tools with SPARK.
7. Picking the right technology partner
If you do decide to build custom software, picking the right tech partner is critical to the project's success. You want to work with someone you're comfortable collaborating with and who can align development with your business goals.
When evaluating tech firms who specialize in construction, use these 6 strategic questions to see if they're the right partner for the job.
Have you worked on a similar solution before?
What's your project management style?
How does your development process work?
How often do you go over budget?
How do I need to prepare for this project?
Do you only provide software development services?
Read more about how to use these questions when hiring a tech partner.
8. Calculate ROI
Will all these changes and investment in software be worth it?
As you're planning a new project, be sure to calculate your ROI. It'll give you confidence that your company is ready for a digital transformation and you'll get the value you need from it.
Any investment in software that improves business processes and efficiency almost always has a positive ROI.
Follow this step-by-step guide to calculate your ROI (worksheets included). You'll use the same logic when choosing which tools of your trade to purchase.
SPARK Tip: At SPARK, 90% of our construction clients often see a return on their investment from within 6 to 18 months. How? We help them focus on building fast, easy, and simple digital tools with the biggest impact for their teams and projects.
How To Get Started with Construction Tech
While change can feel risky and overwhelming, you don't have to fear the "unknown."
Following the plan laid out above can give you confidence to tackle digitization and change your processes for the modern age built on technology.
You're taking an important step forward and putting your company in the best position to grow.
To get started, download our free digitization checklist. It'll help you think through and prepare for a successful technology project.
About SPARK Business Works
SPARK helps construction firms across the nation improve their businesses by building mobile apps, workflows, and dashboards that streamline processes, automate tasks, and deliver data to decision-makers. We've worked across numerous trades including GCs, Electrical, Mechanical, Finishing, Painting, Hardware, Roofing, and more. See how we can help at www.SparkBusinessWorks.com/Construction.
>