When a user wants to know more about your brand, the first place they often look is your website. It's the face of your company, where they can learn more about your services, products, and if you're trustworthy.
But, the purpose of your website is more than just to convert traffic into buyers. When done right, it's a tool to create lasting (and profitable) relationships with your customers. To do that, you need to connect with online users in a meaningful way.
In a digital-first world though, sometimes we forget to connect on a human level. Consider how your digital presence could be falling short now, and how you can fix it by telling your brand story.

How Your Website is Falling Short
When searching online, users make snap judgements. It only takes about 50 milliseconds (0.05 seconds) for someone to form an opinion about your website and whether they'll stay or leave.
That first impression is usually based on visual design. They take in your website's colors, layout, spacing, images, text, and more. In fact, almost half of users cited a website's design as the number one factor in deciding whether a business was credible or not.
If you do pass that initial visual test, is that all you need? Unfortunately, no.
Getting users to your website is only the first step. Next, users have to decide if they want to engage with you like filling out a contact form with their personal info. This is when your design AND your messaging have to work together to sell your brand. Your brand messaging (the words on your website) has to be simple, clear, and resonate with them.
But, many websites fall short here — their brand messaging is often confusing, incomplete, or focuses on the wrong things.
Take a look at your website now. Are you missing the mark in any of these ways?
Only focusing on features of your product
Not connecting emotionally with users
Only talking about yourself
When this happens, you might have notice these warning signs in your analytics:
Low pageviews
Low conversion rate
High bounce rate
"Wrong fit" customers are frequently contacting you
These are some tell-tale signs that your messaging isn't connecting with users as well as you thought. If that's the case, then your website isn't helping to grow your business.
How You Want Users to Feel After Looking at Your Website
Your website's design and messaging needs to tell your brand story simply and clearly.
What's your brand story? It's the narrative you use to connect with your customers on a deeper level. It shows that your brand shares the same values as your customers.
After being on your website, users should feel like:
This company speaks my language.
My questions are answered.
I see validation that they can help me with my problem.
It feels easy to connect with them.
I'm making a good decision.
These feelings are what drives someone to engage with your brand. To spark these emotions though, you need to know how to tell your brand story.
How to Craft Your Brand Story
How do you craft your brand story? It starts with defining and understanding your target audience, so you know how to connect with them on a human level.
1. Define Your Audience (and Be Focused)
Start by documenting the different user types that might use your service, product, site, or brand in a similar way. While many different user groups could interact with your brand, you want to design your story around your best customers first and foremost.
Being focused with your target audience also ensures that you keep your messaging simple and clear. Otherwise, it's easy to fall into being "everything to everyone" at once. When that happens, your messaging won't strongly resonate with anyone.
As you define your audience, you can also audit your current website and objectively judge the content quality and intent. What audience do you speak to now? Is it the right audience? Are you resonating with them on a deeper level?
2. Empathy: Understand and Solve their Problem
The next step is to get to know your customers, or target audience, on a deeper level. This helps you effectively communicate with them about how your product or service can help solve their problems.
To put this into context, try synthesizing what your customers do, feel, say, and think so you can better understand their needs.
Start with this sentence: "My user needs a better way to ____ BECAUSE ____."
Then, record your users behavior and attitude towards their problem by creating an Empathy Map. While these are fictional scenarios, empathy maps are a great tool to "get in the mind" of your customers so you can create better digital experiences for them. You can use interviews, case studies, or any past interactions with customers to help you define their feelings.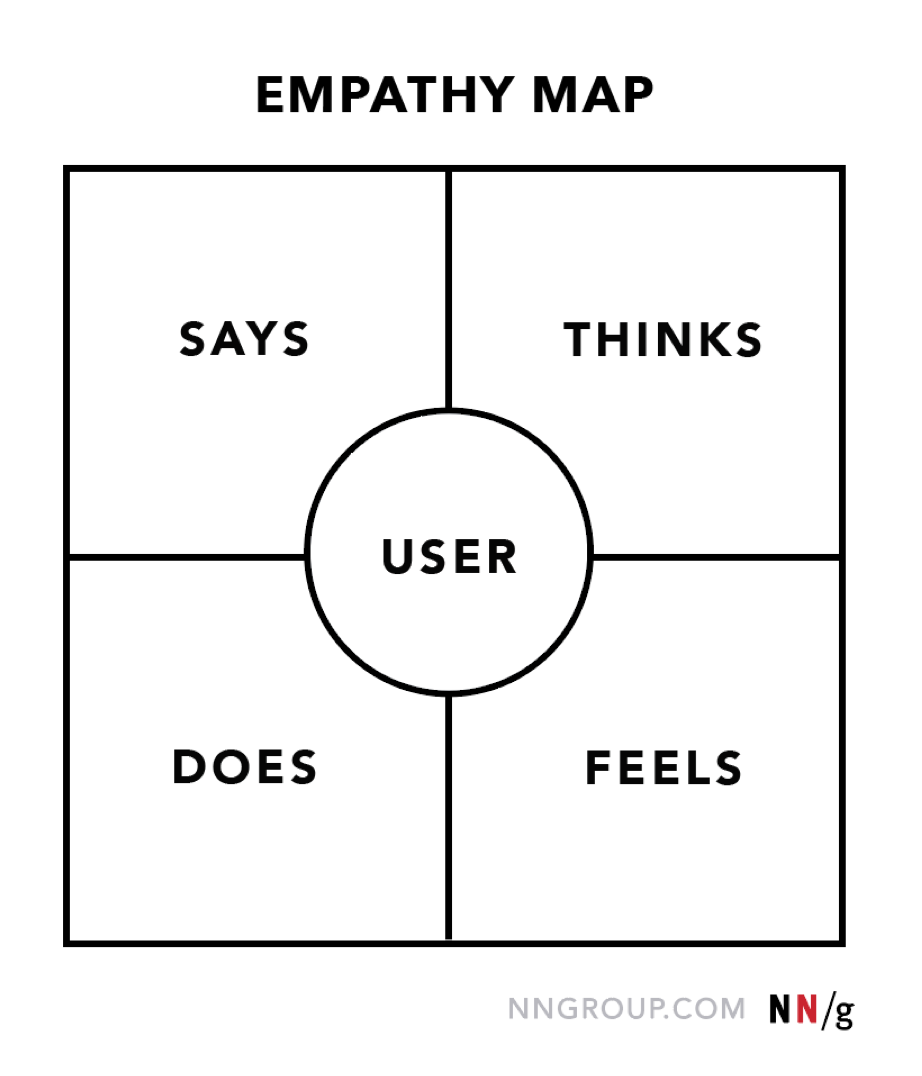 (Empathy maps are just one tool used in Design Thinking, which is a process that ensures that any product like a website always keeps the real needs of its users in mind.)
3. Connect with Compelling Stories
Once you understand the hearts and minds of your customers, you're ready to start creating your brand story. Storytelling is how your brand stands outs in the crowd. It provokes memorable emotions, transports people, and demonstrates that you share their core values. It allows you to build trust with your customers. And, it even works for companies that sell traditionally "boring" products like cleaning supplies.
When crafting your brand story, you can research frameworks like the hero's journey to follow. In general though, most storytelling guidelines will suggest something similar to:
Present an offer, or a better way of life for your users
Show their current problems or challenges keeping them from that
Present why you care and how your product / service can help
Urge them to take action to fix their current problem
4. Keep it Clear and Simple
After that, you're ready to translate your narrative into messaging on your website. As you take this final step, always remember to keep your messaging clear and simple. Even the best stories can get lost in complex wording.
Once you have your brand story in place, you can make it shine with a simple and intuitive user experience. See how to use Hick's Law to improve your user experience.
Get Started with Your Website Makeover
Many companies "want a new website", but they don't put enough into the "why" or "who" of their new site. As outlined above, there's a lot of strategic planning that goes into creating an effective website that can turn into a core asset for your company — fostering customer relationships and increasing sales.
To learn more about preparing for a website project, you can read this website guide here and download our website preparation checklist below. It'll be your go-to resource while planning a website makeover.