It's frustrating to go through a failed technology project. It's a waste of money, time, and energy that your company can't afford. That's why choosing the right software development partner to build your custom solution is such a crucial first step. While many providers claim to build software, you don't want to just hire the cheapest or get caught up in a pushy sales process.
After delivering hundreds of successful software solutions ourselves, we've learned a thing or two about what makes or breaks a custom-built project.
Here's our list of 5 questions you need to ask when evaluating custom software development companies. These strategic prompts should help you decide who's the right partner for the job (and avoid wasting time talking to the wrong ones).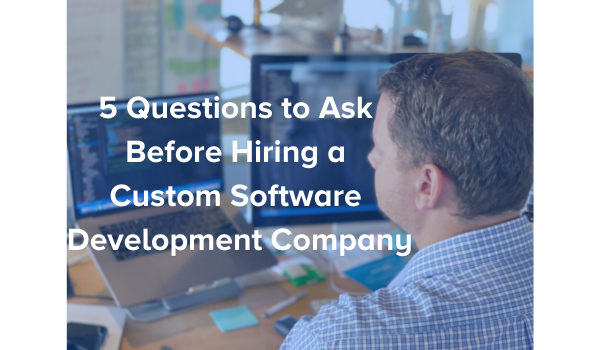 1. Have You Worked on a Similar Solution Before?
A good measurement of expertise is evaluating past work. Ask upfront if the development company can share any case studies or customer testimonials of similar projects.
While it's not a deal breaker, you should also specify about similar projects in your same industry. If they have worked with a company like yours, they may have additional insights and best practices to apply to your project.
Custom software development is a technically complex process. You don't want to work with a novice partner (no matter how low the price is). You'll spend more resources and end up with a lower-quality product.
2. What's Your Project Management Style?
You're going to collaborate a lot with this partner, so you'll want to be sure you understand their project management style. Every successful project takes a certain level of accountability and transparency. When you trust your partner, you'll have a much better development experience that leads to a better product in the end.
Ask your potential partner how they manage projects. How do they communicate and how often? You want to make sure there are regular check-ins so that either side can catch any problems (and seize on newly surfaced opportunities) at each stage in the project.
Next, ask the developer if they will have a dedicated project lead. For an involved technology project you want to know there's someone accountable to your success. Take a look at how SPARK leverages a product manager to align the development process with your business needs.
Technology projects can quickly get off track when parties aren't aligned on the management style. Before signing off on anything, you'll want to make sure you're clear on expectations.
Read stories about successful business tools launched with SPARK →
3. How Does Your Development Process Work?
Ask the potential partner to walk you through their development process. A proven methodology is key to delivering a quality product on time and budget. Be wary of companies that want to "figure it out" as they go. Software development is a disciplined practice and you don't want constant surprises along the way.
Most software development lifecycles should look like this:
Discovery > Design > Development > Testing > Deployment > Training
While the approach across companies may seem similar, there's a few places to focus on:
Discovery: Does the developer have a good grasp on your business goals? Does the scope match your priorities? Successful projects start with a clear and achievable scope.
Testing: Their protocol for testing can be a deal breaker. Poor software code is often the result of poor QA and testing. Throughout the project, there should be iterative testing to ensure the software meets project requirements. You don't want to find out at the end that your new product behaves nothing like you thought.
Planning / Changes: It's normal for some scope changes throughout the project. However, how a partner deals with those changes will affect your project's outcome. Mismanaged projects can lose sight of high-level goals, drain money and delay launch times. Ask your potential partner about their project planning methodology and how it affects the implementation process.
Support: What happens after your project reaches the finish line? Is your partner there for training, bug fixes (some are unavoidable), or new feature requests? You want to work with someone that's with you every step of the way.
Look out for partners promising you the "kitchen sink" to start. You don't need to change everything at once. It's too easy to lose sight of your goals and end up with features you don't really need.
Instead, focus on quick wins for your top priorities. For example, SPARK works with clients to narrow initial project scope down to features that will deliver the biggest impact. This helps us keep costs under control, minimize organizational disruption, and be open to client feedback at each stage. We take an iterative process to make sure we build the features you need.
4. How Often Do You Go Over Budget?
To be clear, most projects will go over budget. The point here is to find out by how much they actually go over budget. Is there a big difference between their estimated and actual hours for past projects?
Industry standard is 4% to 8%. This metric is a good indicator of a transparent and efficient development process. A good partner should assure you they run a disciplined process that controls and plans for unexpected changes and the resulting costs.
5. How Do I Need to Prepare for This Project?
Most custom software projects require participation from the client themselves. Before heading into a project, you should know what's expected of you during the implementation process.
How often do you need to be available for meetings? Which of your stakeholders need to give input during the discovery process? Will you need to participate in software testing? Do you need to give them access to any current systems?
Here's some resources SPARK recommends to help you better prepare for your project:
Bonus: Do You Only Provide Software Development Services?
If two companies are head to head on paper, this question can be a good tiebreaker.
First and foremost, you want to work with someone whose core competency is software development. Don't get pulled into a large agency that just happens to dabble in software development, but offers everything else.
It's good to know if your chosen partner has additional expertise (like branding/design or system integrations) that you can leverage. Even if they don't offer everything in-house, can they introduce you to another known partner? You want to work with a trusted team of experts that can meet your needs holistically.
Choosing the Right Technology Partner
We hope these questions help you determine the right technology partner for your project.
If you have a project idea, contact the SPARK team today to discuss it. We love hearing a company's unique challenges and crafting a solution that works for them.
***
Not ready to talk yet? No problem! Download our Guide To Custom Software Development that walks you through how to turn your technology idea into a successful product for your team.