Michigan-based metal fabrication company, DeWys Manufacturing, committed to the Lean journey back in 1997, after being inspired by Toyota's production system. Today, this mindset is ingrained in their culture and drives their team to meet their company goal of reducing costs by 5% annually.
At the head of the DeWys innovation team is Mike Stream, Director of Continuous Improvement. He works with stakeholders across the organization – from shop floor workers to management – to hear and implement new ideas to increase safety, efficiency, and profitability. He frequently reminds his team that, 'If it can be repeated, it can be automated.'
A Major System Upgrade Calls for Change
Last year, DeWys wanted to further improve their processes by upgrading their ERP from Profit Key International to Global Shop.
Global Shop met their key requirements in several areas. But the new ERP fell short in its native reporting and dashboard capabilities. It didn't include all the KPIs their team wanted to calculate, track, and manage.
To make the most out of their investment, DeWys recognized that they needed custom software to manipulate their ERP data the way they wanted. They first turned to their own IT team, but quickly realized that they simply didn't have the bandwidth to implement this major custom component, while maintaining day-to-day operations.
DeWys Turns to Local Partner SPARK
Looking for help elsewhere, Dewys sought out a trusted source for potential custom software developers to partner with. After meeting with a short list of local vendors, they chose SPARK because they shared the same approach to process improvement and technology adoption.
Mike mentioned, "I first met with Bob and Jake and then later the rest of the team. SPARK was a better cultural fit than the other places we were considering." This was an important distinction since DeWys had struggled with other vendor experiences in the past and their ability to keep up with their needs.
SPARK's development process begins with gathering input from all stakeholders at the beginning of a project to ensure the right features are selected. This aligned with DeWys's lean principles that focuses on ideas generated first from its employees on the shop floor.
Design and Development of Custom Manufacturing Dashboards
SPARK's design and development team worked closely with DeWys to set their goals for the project and evaluate different solutions.
At the top of their list was increasing communication and improving performance metrics. Mike affirmed that, "Communication is the key to everything. It's a matter of how we do it without relying on someone to send you the information."
But at the time, DeWys relied on paper travelers– packets of instructions for each stage of manufacturing– that were being moved throughout the shop floor with the parts. This manual process was slow and required pulling data from different sources to develop the travelers.
After evaluating a few different solutions, SPARK and DeWys agreed to prioritize a quick win first– the drill down report.
1. Drill Down Report
While simple in concept, this report helps over 160 shop workers keep track of their progress for each stage of the manufacturing process. It displays each job's priority level and required completion date, along with the customer and part names.
More importantly, starting with a 'quick win' project enforced that new technology was there to help their shop employees, not cause more frustrations.
2. Labor Performance Dashboard
Following its success, SPARK continued to take a deep dive into DeWys's new ERP system, Global Shop, and the development of an interactive dashboard to help their operators improve performance through data.
The two teams met weekly over a span of 3 months to build the labor performance dashboard using Microsoft Power BI, while ensuring the operators had a say in its design and metrics.
Mike testified, "Everything on the dashboard was put there because we went out on the shop floor and asked them what they wanted to see."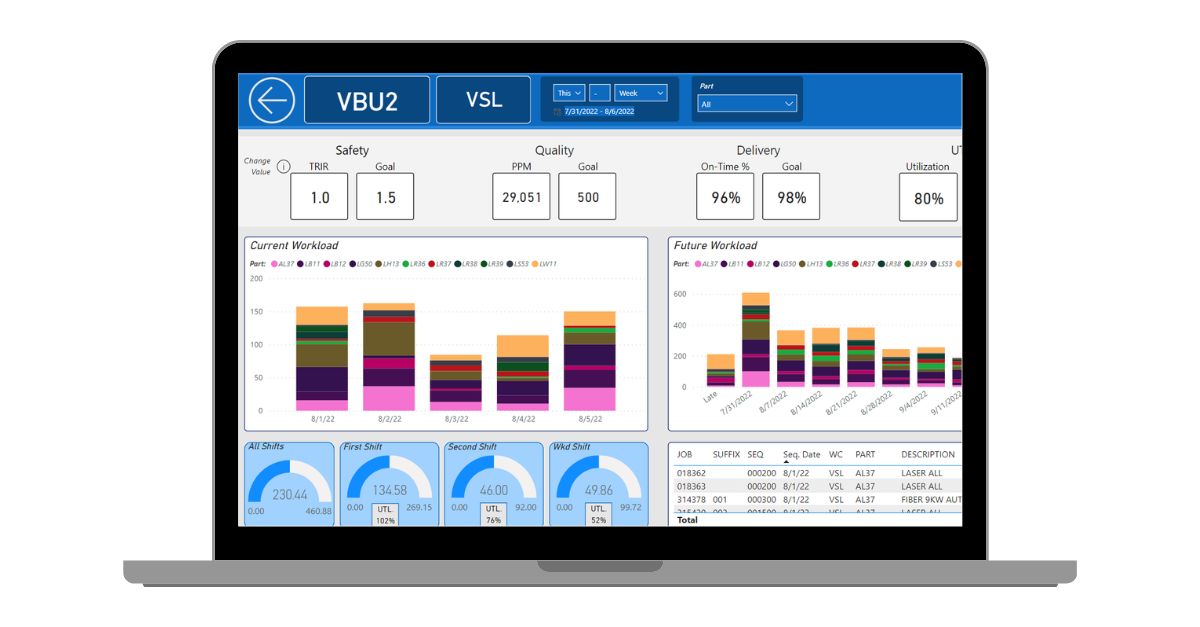 Strategic Rollout and Results
Before launching the new dashboard, Mike and the rest of the team were conscious that some workers might be apprehensive about using the new technology.
To overcome that fear, DeWys took the time and effort to host 1-on-1 training sessions with each employee to ensure they were comfortable with the dashboard's functionality. These sessions helped ease the transition from the familiar paper system, while maintaining production efficiency.
Now, there are 15 to 20 TVs directly on the shop floor to help over 160 workers track and manage their progress. Since launch, Mike has reported a notable change in employee attitudes. "Our workers no longer wait for someone to tell them what to do. The dashboard gives them the ability to be proactive and take initiative when planning production.'"
Overall, the custom-designed dashboard has been a game-changer for efficiency and data accuracy. DeWys has:
Eliminated paper travelers and saves time compiling data
Visibility for each stage of the manufacturing process
Workers using technology to take ownership of their work
And in the spirit of 'continuous improvement,' SPARK and DeWys continue to tweak and improve the labor performance dashboard as needed. Each new version incorporates stakeholder feedback to incorporate new metrics and further enhance usability.
Takeaways for Other Manufacturers
Gather input and ideas from all stakeholders, not just management. The effectiveness of the dashboard was made possible by ensuring the shop floor had a say in what metrics were displayed.
[FREE TOOL: Innovation Conversation Starters – Use to start gathering input from your team]
Prioritize pain points with a big impact. DeWys saw quick results and ROI by starting with the drill-down report and showing how technology can be used to make a process easier.
Take your time on implementation. DeWys provided 1:1 training to ensure the dashboard launch was met with immediate and positive adoption on the shop floor.
[RESOURCE: Software Implementation Checklist – See how to plan for a rollout]