Kalamazoo, MI – SPARK Business Works announced today that the company has been selected for the 2021 Inc. 5000 Fastest-Growing Private Companies in America list. With 430% revenue growth over the past three years, it is ranked in the top 25% at spot 1,131.
SPARK helps clients translate complex business requirements into simple, user-friendly systems and tools by providing a custom approach to designing and building business software.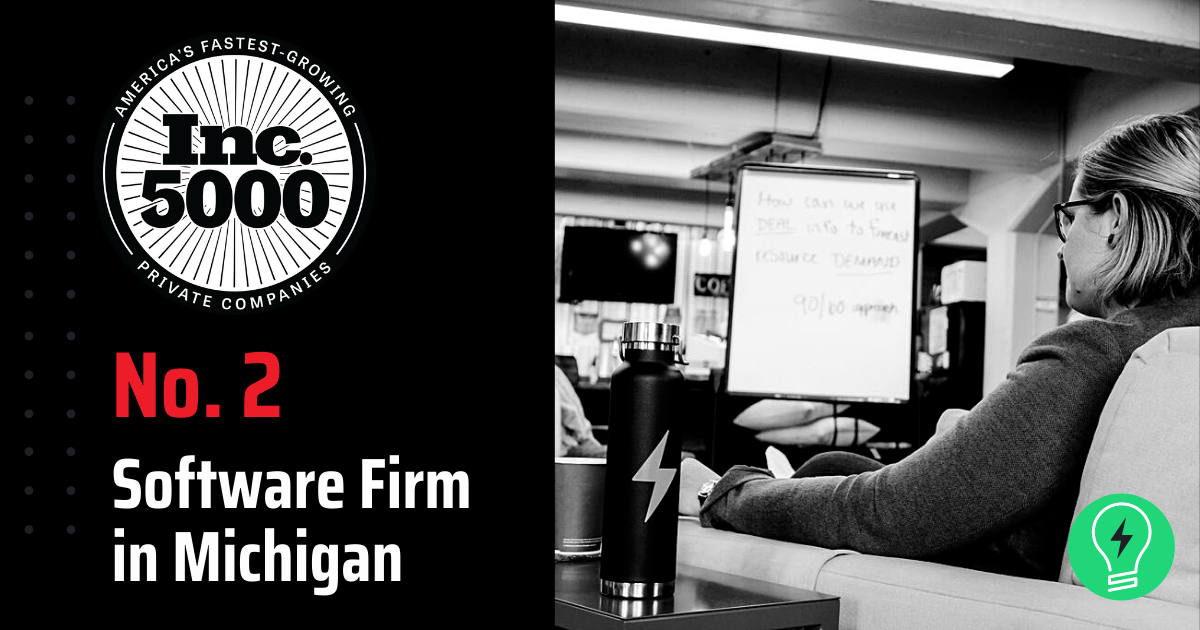 "We've made construction safer, facilities smarter, healthcare accessible, field workers connected, and manufacturing efficient– just to name a few," stated Robert Armbrister, CEO and President of SPARK Business Works.
SPARK is the only national software company serving the construction industry listed on the 2021 Inc. 500 list and the second-highest Michigan software provider included.
With SPARK, firms across the U.S are embracing digital efficiencies one step at a time, often starting with mobile data collection, automated back-office workflows, eliminating data silos, and custom reporting.
"How a company operates is based on their unique capabilities. Unlike off-the-shelf products, we can look at their existing systems, talk to their employees, understand what they need, and develop solutions that are going to get better adoption. It is a game changer to move to custom, integrated tools that are in sync with your operations. And fortunately, clients can see a 4-10x financial return in 2 years or less," concluded Armbrister.
Inc.'s prestigious annual ranking showcases companies that proved especially resilient and flexible throughout unprecedented challenges in 2020 and 2021. Together, these companies added more than 610,000 jobs over the past three years.
For example, SPARK designed and rapidly deployed a mobile tool to help construction managers implement health screening requirements. The safety form is customized and being used at more than 700 construction job sites and facilities nationwide, helping protect workers and keep companies efficient during the pandemic.
"The 2021 Inc. 5000 list feels like one of the most important rosters of companies ever compiled," says Scott Omelianuk, editor-in-chief of Inc. "Building one of the fastest-growing companies in America in any year is a remarkable achievement. Building one in the crisis we've lived through is just plain amazing."
"When I started my career, one of my first customers had an Inc. 5000 plaque in their waiting room. That was close to 15 years ago and I've always wanted to reach that milestone with SPARK," said Armbrister. The alignment of great customers, great service, and great people is what helped us make it happen. I hope that one day someone can look at SPARK's accomplishments and it will serve as inspiration for them to go out and make it happen too."
###
More about the Inc. 5000:
Companies on the 2021 Inc. 5000 are ranked according to percentage revenue growth from 2017 to 2020. To qualify, companies must have been founded and generating revenue by March 31, 2017. They must be U.S.-based, privately held, for-profit, and independent—not subsidiaries or divisions of other companies—as of December 31, 2020. (Since then, some on the list may have gone public or been acquired.) The minimum revenue required for 2017 is $100,000; the minimum for 2020 is $2 million. Growth rates used to determine company rankings were calculated to three decimal places.
About SPARK Business Works 
SPARK designs and builds custom digital solutions for forward-thinking companies– helping them translate complex business requirements into simple, user-friendly systems and tools. SPARK offers expert software design and development services.
For media inquiries, please contact Brad Wilson, brad.wilson@sparkbusinessworks.com.