Kalamazoo, MI – SPARK Business Works is being celebrated as one of the 2021 awardees for the Michigan 50 Companies to Watch award, presented by Michigan Celebrates Small Business. Companies nominated for the Michigan 50 Companies to Watch award must be second-stage companies, defined as having six to 99 full-time-equivalent employees and generating $750,000 to $50 million in annual revenue or working capital from investors or grants. Additionally, the companies must be privately held and headquartered in Michigan.
SPARK Business Works is a custom software and digital design agency headquartered in Kalamazoo with local offices in Grand Rapids and Metro Detroit.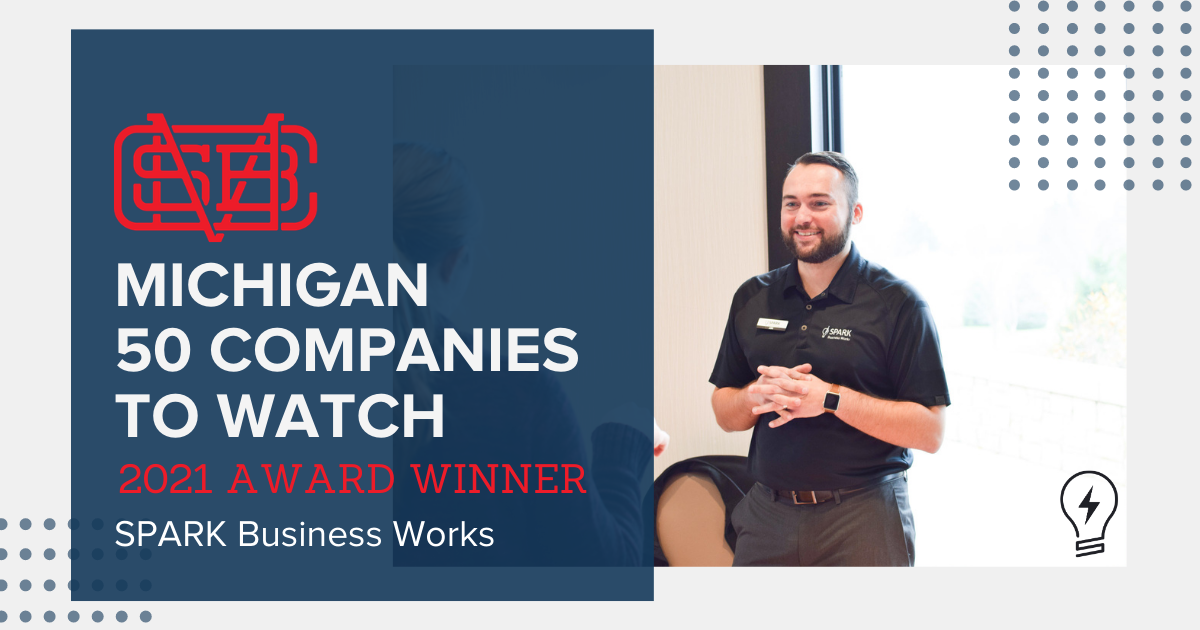 "Just a few years ago we started to build a software company that served the average business by creating practical innovation. We are honored to get to work with the owners, managers and field workers from these businesses directly. The tools we build can transform their businesses forever," said Bob Armbrister, President/CEO, SPARK.
Each nominee is evaluated based off of intent and capacity to grow such as:
Employee or sales growth
Exceptional entrepreneurial leadership
Sustainable competitive advantage
Since 2017, SPARK has grown from 4 employees to 45 and increased new clients by 45% annually.
Other notable factors for SPARK's inclusion in the Top 50 include:
Earned 50+ 5-star client reviews
Hired 22 full-time employees during the pandemic in 2020
SPARK's mobile health screening tool has been implemented at 700+ construction job sites across the country
"This milestone was only possible through the hard work and commitment from our amazing team, clients that share our values, and partners that support our vision," said Armbrister.
"Small businesses create significant economic impact in communities all across Michigan, said Josh Hundt, Chief Business Development Officer and Executive Vice President at the Michigan Economic Development Corporation. "We are excited to acknowledge and celebrate small businesses who have been selected by their peers, communities and small business support organizations and demonstrate the resiliency and impact of Michigan small businesses."
About SPARK Business Works 
SPARK Business Works builds websites and custom software for clients to level up their digital presence, streamline processes, and deliver data to decision-makers. Learn more: www.sparkbusinessworks.com
Contact Information:
Brad Wilson, Vice President
brad.wilson@sparkbusinessworks.com
313.570.7168
About Michigan Celebrates Small Businesses
Michigan Celebrates Small Businesses is a non-profit (501c3) organization that is composed of statewide founding organizations that provide small businesses with resources to help their company grow. Since 2005, the awards gala has celebrated and honored the impact small businesses have on our communities and state. MCSB makes small businesses their priority and will continue to support, connect, and celebrate small businesses in Michigan.
Michigan Celebrates Small Business is a partnership of the Michigan Economic Development Corporation, Edward Lowe Foundation, Small Business Association of Michigan, U.S. Small Business Administration, Michigan Business Network and the Michigan Small Business Development Center.