By nature, construction job sites are dangerous. You have to deal with inclement weather, changing site conditions, and powerful equipment. Safety is (should) always be a top priority.
In 2018, there were 195,600 injuries within the construction industry in the US. In fact, injury rates are 71% higher than the average across all industries. And the total annual cost of injuries in the US is over $11.5 billion.
But without the right tools and standards, it's hard for Safety Managers to monitor workers on a day-to-day basis. There's also the ever-present pressures to get jobs done quickly and under budget. So when you're in the weeds responding to incidents as they happen, you can't always take a step back to revise how your handling safety as a whole.
Fortunately, there is new safety technology helping companies raise their safety standards and respond quickly to incidents. Keep reading to see how simple and easy technology solutions can revolutionize how you monitor and protect your sites.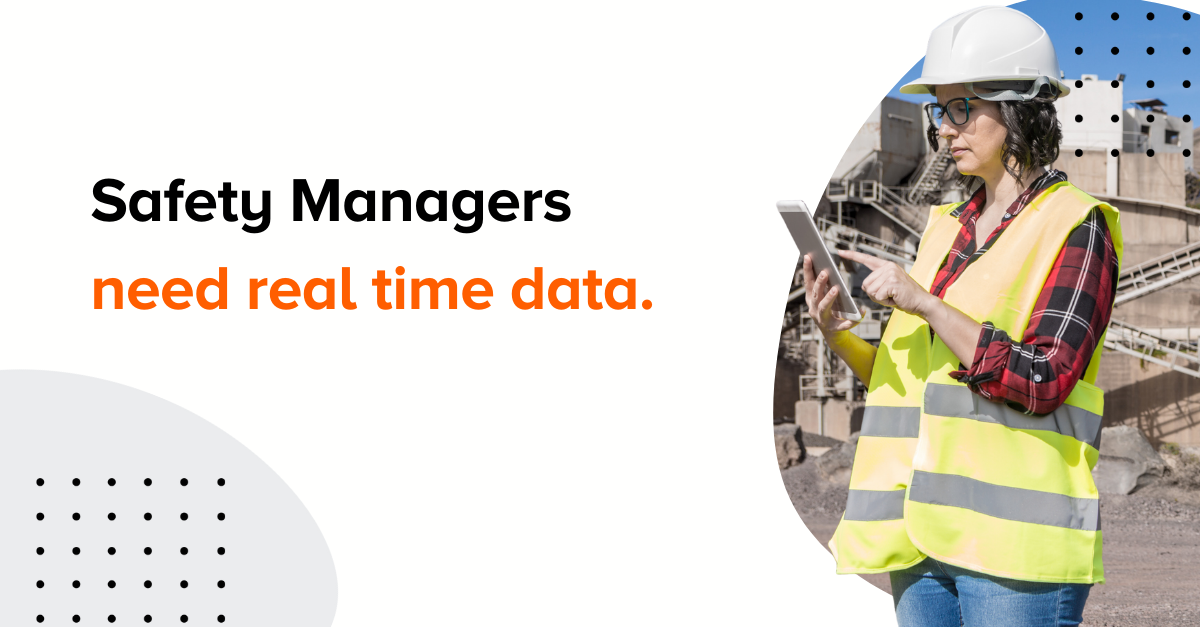 How Safety Tech Can Help You
When it comes to safety, there are a lot of variables to consider (like anything else in construction). You have different rules and regulations to follow and understand. You can't always physically see what's happening on your job sites, especially if they're spread out all over the state or even country.
But paper forms and manual reporting make it difficult to truly know what's happening and how to take the right action.
Fortunately, technology can help bridge the gap between workers on your job sites and the team back at the office. It makes it easier for Safety and project managers to connect with your crews instantly, push out new information, and standardize how you handle incident and injury reports.
With better communication and processes in place, you'll keep your crews safe, while saving your team's time when recording and processing incidents and data.
Here are a few of the ways safety tech can help:
Streamline operations. Turn cumbersome paper and manual processes like audits and incident reports into automated workflow processes.
Get real-time data. Understand who's on your job site and when. Be alerted to any new incidents quickly.
Track and analyze data. Monitor your job sites daily, identify trends, and act on areas that need improvement.
Visibility. Dashboards and reporting deliver the right data to the right people when they need it to take action.
Improve response time. Respond to and record incidents and injuries in a timely manner.
That's all straightforward. So, where do you start? How do you improve processes? Well, there's a lot of new safety tech out there to consider– from wearable tech that can monitor crew members' fatigue levels to drones that can check job sites for hazards.
While you might want to use some of that cutting-edge tech one day, it isn't the best place to start.
Easy Wins with Safety Tech: Mobile Apps
When implementing tech for the first time, it's best to start with simple tools your workers will use, like tech they already have in their pockets and use daily– their smartphones.
While mobile devices (phone and/or tablets) aren't the fanciest tech out there anymore, developing safety applications for them can have a big impact on how you approach safety (while being both affordable and accessible solutions for any size firm to take advantage of).
How to Use Mobile Apps (with Examples)
Mobile apps can help with all different parts of your operations. But when it comes to safety, you can break down into four main categories to consider:
Collecting and sharing data from the field
Training and communication
Compliance
Dashboards and reporting
Collecting and Sharing Data Out in the Field
For mobile apps to be successful, they must save time for your workers. They have to be easy-to-use tools that are part of their daily workflows like the following.
1. Daily prompts for reporting
Support safety by including a daily question asking whether any injuries or incidents occurred. This ensures incidents are recorded and addressed quickly.
For example, you can make this question part of a worker's daily workflow by including this inquiry during their routine time entry like below.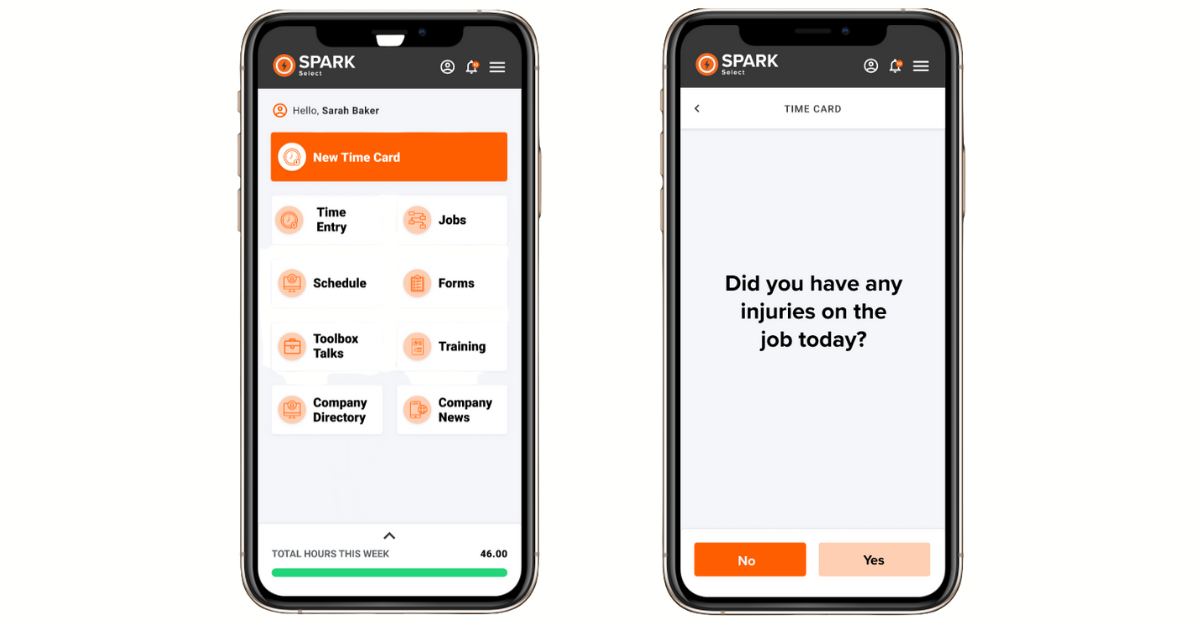 2. Electronic forms to collect field data
Like above, mobile apps can replace paper forms to collect any injury and incident data. And this data can be automatically shared from the app to your back office. Paper forms won't sit in a truck for weeks or go missing. Your team will always be aware about what's happening at any job site, no matter how far away it is.
Training and Communication
Mobile apps give your team ready access to the information they need.
1. On-demand training and Toolbox Talks
Safety managers can leverage mobile apps for Toolbox Talks, or required training. Employees can complete the training wherever they're located and managers can track who's completed it and when.
For example, you can include quizzes to test a worker's understanding of the material. Or you can have them sign an acknowledgment that they received the training, all right on an app.
2. Easily communicate with your team
Smartphones allow you to use messaging and push notifications to alert your team to important information. Whether it's new required training or a change at a job site, mobile apps put important information in your team's pockets.
Compliance and Document Management
Safety directors have to keep track of all sorts of information and documents like compliance and incident reports. But when this important information is tied up in emails, text messages, or paper copies, it becomes an unruly mess that's hard to manage. No one likes searching through that on a regular basis.
Instead, mobile apps and web solutions can centralize and store your most important documents in one place.
1. Keep track of training requirements and compliance
Each of your jobs can have different training and compliance requirements. But it's a hassle to keep track of who's allowed to work what jobs.
With a the right application, you can establish a workflow that allows you to review and assign team members with the right training and certifications for a job. For example, software can be programmed to only let you assign workers who qualify with certain certifications.
2. Single location to store safety reports and information
By digitizing your paper forms, you can also store all important documents related to job site safety in a single location. This can include photos of potential hazards, interview notes from incident investigations, etc. You'll have one place to find and review the safety information you need.
Dashboards and Reporting
An advantage of digitizing data is that you can turn it in real-time dashboards and 1-click reporting. With data at your fingertips, you can use it to make better decisions daily.
1. Centralize data into actionable management dashboard
With data collected through apps, Safety directors can view it into a real-time management dashboard. You can choose what safety information and performance you need to see and understand at a glance.
For example, here's a dashboard showing an overview of inspection and audit reports. At a glance, mangers know their overall performance and can dig deeper into any failed audits as needed.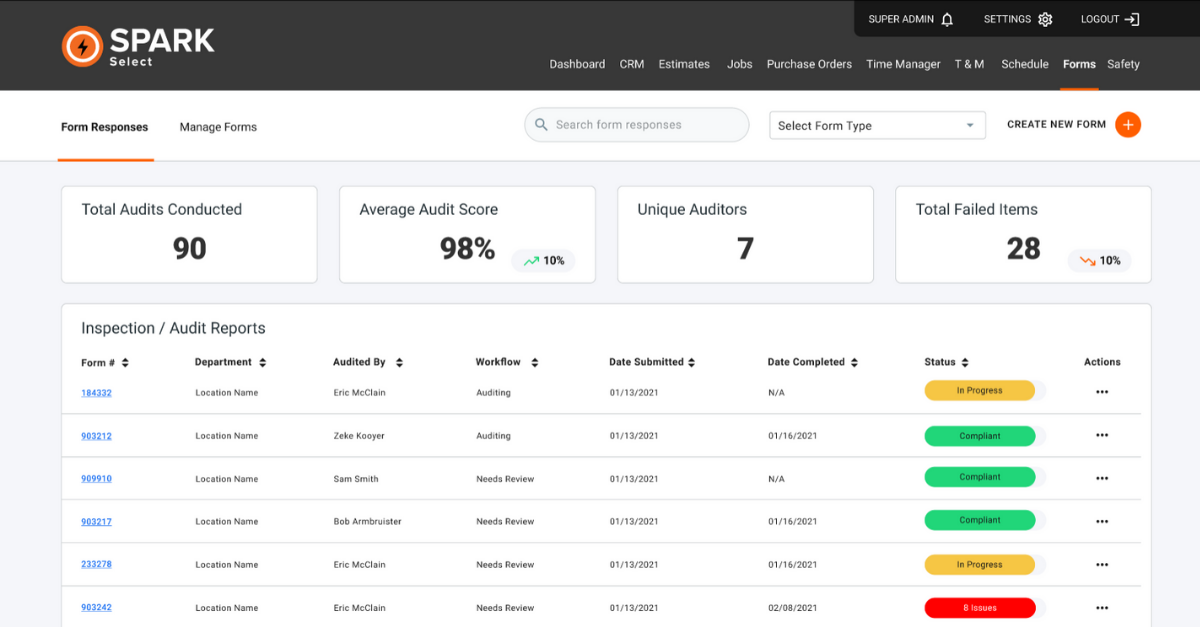 2. Give the right information to the right people
A customized dashboard can also ensure you get the right information to the people who need it. The back office staff will see one type of report. The foremen will see another relevant to their work. And team members can automatically be reminded to take care of the tasks that are a part of their daily workflow.
How SPARK can Help
These are just a few of the ways you can leverage tech like mobile apps to improve your safety standards. Every construction business is unique. You'll have your own processes and requirements for improving safety on your sites.
If you're ready to implement Safety tech, reach out to SPARK to see how we can help you build safety apps that meet your needs exactly.
>