Today's construction industry is in quite a quandary: There's plenty of work, but not enough workers. In August of 2019, the U.S. Bureau of Labor Statistics reported 434,000 vacancies in construction jobs, and 80% of construction companies can't find the workers they need.
If the labor shortage is affecting your business, it may be time to consider construction management software.
Construction Management Software for Builders and Contractors
Compared to other industries, the construction sector has lagged when it comes to adopting technology. But the labor shortage is forcing construction companies to do more work with fewer people, and the only way to do that is by increasing productivity and efficiency.
Here are just a few of the things construction management software can do to help you remain profitable and competitive.
Scheduling
A lot of contractors and builders still use whiteboards or spreadsheets for scheduling. The problem is that a construction schedule isn't two-dimensional. It's not as simple as putting an employee in a time slot at a certain location like you would do for a restaurant or retailer. Not only do you have to consider things like worker skills and certifications, but you also have to think about dependencies, like work that can't begin until other work has been completed.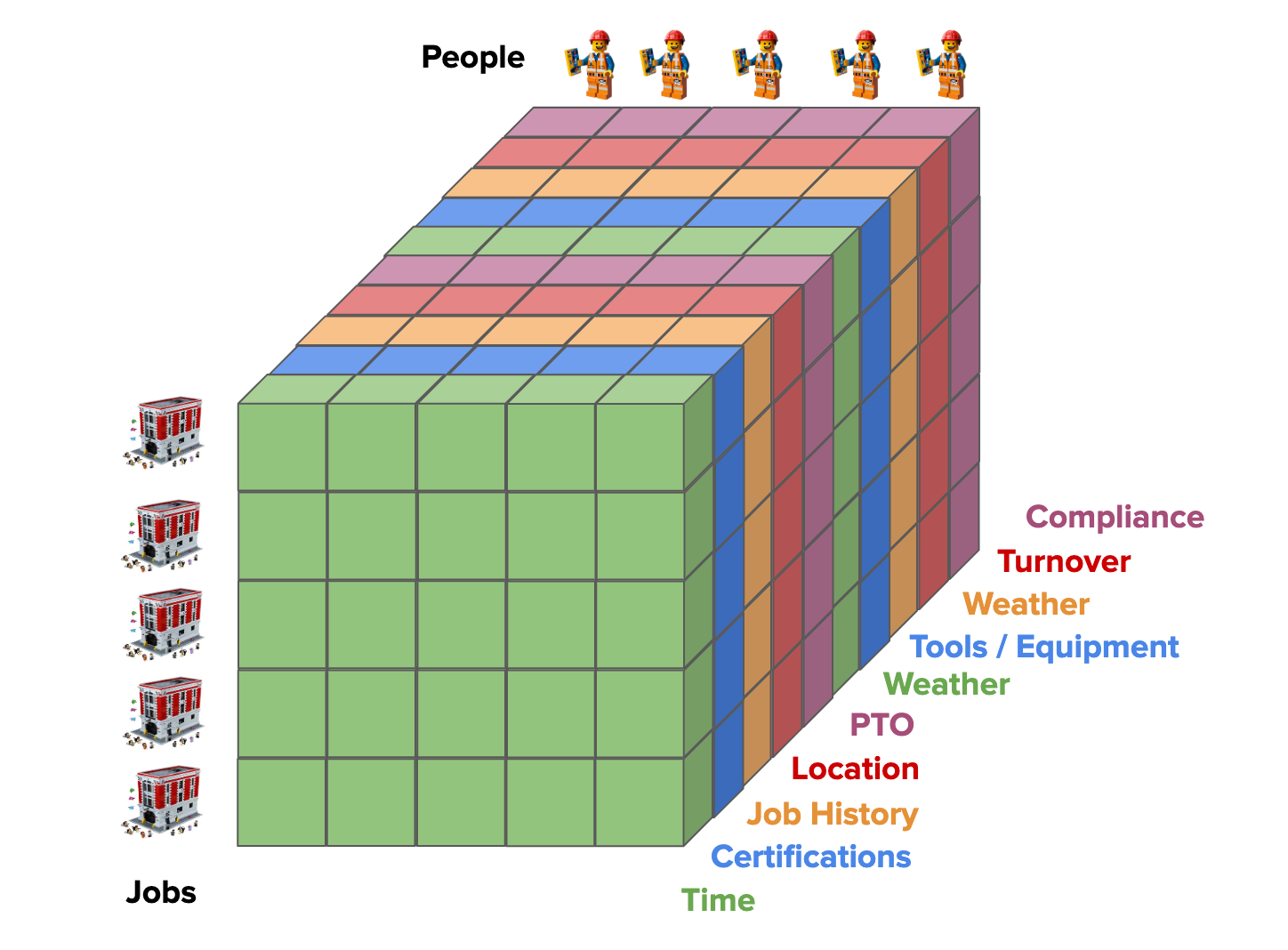 And then there are factors like equipment and materials to consider. If work on a site stops because they don't have the equipment or materials they need, that's money down the drain.
Think of it as a Rubik's cube, with layer upon layer of variables that would be extremely difficult to manage on a spreadsheet or whiteboard. "SMART" scheduling software, on the other hand, can consider all of the pertinent data points and come up with a schedule that puts the right person at the right location at the right time for the right reason.
>
Process Automation
Process automation can eliminate the repetitive, menial tasks that eat into your day. For example, if your workers spend Friday afternoons trying to cobble together their hours from memory (and you spend Friday evening keying all those hours into your payroll system), think how much time you could save if workers could check in to and out of sites on their mobile devices. You could spend your time on things that will grow your business rather than on data entry. And you might even save some money if workers have been overestimating their hours.
Construction management software for contractors and builders can also automate common workflows. When an electrical crew uses a mobile app to mark their work as complete, the construction management system could send an alert to a drywall crew, letting them know the site is ready for them. In an industry with so many dependencies, automating workflows can save hours.
Information Management
Your construction business probably has tons of valuable information scattered around the office on sticky notes or lists thumb-tacked to a cork board — things like the contact information for your favorite contractors, or the steps you follow when someone is injured on the job.
Construction management software can provide your organization with "a universal source of truth": a repository of all of the knowledge that makes your business run smoothly. And, by using tiered permissions, you can let everyone on your team — internal and external — access the inform
Field-to-Office Business Intelligence
All of that data you enter into your construction management system is a gold mine. Data visualization and automated reporting can give you insights you wouldn't have seen on your own. Maybe you'll see that the majority of your lost-time accidents occurred under the same supervisor. Perhaps you'll see that your profit margin on a particular type of project is significantly lower than on others, and you'll decide not to bid on those anymore. When it comes to construction management software, the more data you enter, the better insights you'll see.
Ready To Go Digital?
Through automation, increased productivity, sharing of knowledge, better scheduling, and better communication, construction management software for builders and contractors can help you remain competitive despite the current labor shortage.
If you choose custom construction software built from the ground up just for your business, the digital revolution is ready and waiting for you. Contact SPARK today to get started!