Across all industries, leaders are leveraging digital tools to differentiate and grow. If you find yourself at the intersection of needing to be innovative while still being practical, ask yourself these questions:
Are we operating as efficiently as we can?
Are we missing out on growth because of a customer experience that is "just OK"?
Are our employees complaining about internal processes?
Is data siloed across our organization making it hard to make decisions?
If you don't have satisfactory answers to any of the above, you've likely started to investigate new digital tools. You know you risk getting left behind by your competition without the right technology to power your team.
Implementing EXACTLY the right digital tools to help your company level up can be a big undertaking. How do you ensure you pick the right solution? This article shares the benefits of working with a software development company to build a custom solution.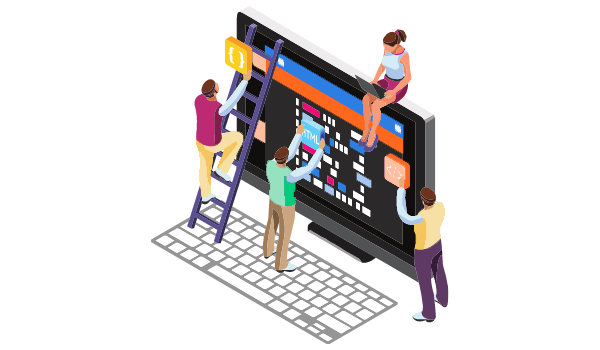 Why Organizations Choose Custom-Built Software
When evaluating your options, the first decision is whether to license off-the-shelf software or build a proprietary solution with a custom software development team.
Many turn to off-the-shelf software for perceived fast launch times and affordable upfront costs. While these general solutions seem like a good place to start, they don't always meet your unique business needs. There's little room for customization and they don't always scale with growth.
Realizing this, organizations rip these solutions out. They then have to start their projects over again, wasting time and money in the process.
Custom-built software is developed to accommodate the specific needs of its users. Top software companies like SPARK lead you through a detailed process to tailor the solution to your business problem and position your processes to scale with growth. Custom software is a good choice to optimize critical backend processes or when off-the-shelf software isn't adequate for the unique way you do business.
Take this interactive quiz to see if custom software is right for your business →
Building custom software is an investment. It takes significant time and money to build a technology asset that works exactly how your business works. However, most leading organizations see the investment as worth it because their solution is flexible and scalable. They can clearly measure a return on their investment in efficiency and new opportunities.
5 Reasons Why You Should Hire a Custom Software Development Company
When looking to build digital tools, here's why you should hire a software development company to help.
1. It Takes a Diverse Development Team
Your first instinct might be to use an in-house or generalist developer for the job. You're familiar with them, they know your business, and you like the price tag. What's the harm in letting them build it for you?
Short-sighted thinking can lead organizations to delegate projects to a generalist developer that builds, maintains, and supports the entire solution. What happens when that developer goes on vacation or becomes unable to work?
Successful projects need a diverse set of skills throughout the development process. For example, SPARK's development teams include:
Front End Developers
Back End Developers
UI/UX Designers
System Analysts
It's unrealistic that an in-house or generalist developer can play all these roles effectively. They can lack knowledge in certain areas or resort to shortcuts like skipping testing. Mismanaged projects like this can waste thousands of your dollars without ever resulting in a solution that works.
Partnering with a specialized development team ensures there are no shortcuts in the process or gaps in knowledge. When a whole team is behind your project, they can deliver a solution that your organization can leverage for years to come.
2. You Need Their Expertise and Experience
Designing and implementing new digital tools can be overwhelming. Building software is a technically complex process that requires an in-depth amount of knowledge and experience to be successful.
You want to work with a trusted partner to guide you through the process. While you may have a few ideas of what the solution should look like, expert software providers like SPARK can offer insights that you might know about. You can take advantage of their experience building hundreds of custom solutions to ensure your project follows best practices and meets your holistic business needs.
Not all software development companies are created equal. Low-quality software is often the result of inexperienced providers. Be sure to ask these five questions to help you decide who's the right partner for the job.
3. You Will Launch Faster
While you want to be up and running as quickly as possible, you don't want to sacrifice quality in the process. You want to hire a team that has a proven process for delivering solutions. There's no guesswork, experimenting, or unnecessary steps that can result in reworking features or delays.
A tried and true software development process ensures both a high-quality product and on-time project. It focuses on efficiency throughout the whole process from capturing business requirements to designing and deployment. A set (but responsive) process anticipates and avoids costly mistakes. It also puts you in a position to capture new opportunities for innovation as they come.
4. You'll Minimize Your Project's Risk
Experimenting with off-the-shelf software or generalist developers opens your organization up to a higher level of risk. There's too many questions left unanswered.
Will you quickly outgrow your off-the-shelf software tools?
Will your solution hold up over time and not routinely break with changes?
Does only one person understand the product technically? What happens if they're not available?
How will the software integrate with my other systems or processes?
Will my employees want to use this solution?
Is the solution designed to meet my holistic business needs?
Working with proven experts minimizes your project's risk. They know how to successfully guide you through scope, testing, timeline expectations, and more. You know exactly what you're going to get at the end. It's always easier and (costs less) to invest in building the right solution now than fixing the wrong one later.
5. You Will Save Money
The previous reasons compound into a key aspect of choosing custom-built software: it's an asset that will save you money in the long run. You'll be confident that your solution will:
Increase productivity and improve your employee experience
Be flexible and scalable to your processes as you grow
Interface with your other systems and processes for max efficiency
Position your organization for more innovative opportunities in the future
Custom-built tools are unique to your needs and designed to grow with your business. They will save you from wasting money (and the headache) on experimenting with the wrong solutions over time. In fact, many SPARK clients who invest in custom software report an ROI within twelve months.
What to Do Next – Starting Your New Technology Project
Implementing new software tools is a big undertaking. Picking the right solution and partner is crucial to the project's success. The good news is that there are custom software experts like SPARK to help you. To keep investigating, you can see our process -or- just skip right to the stories of other companies like yours who have seen the results.