Disconnected workflows became even more stressed during the pandemic. Heading into next year, you need a new tech strategy to differentiate your services and thrive.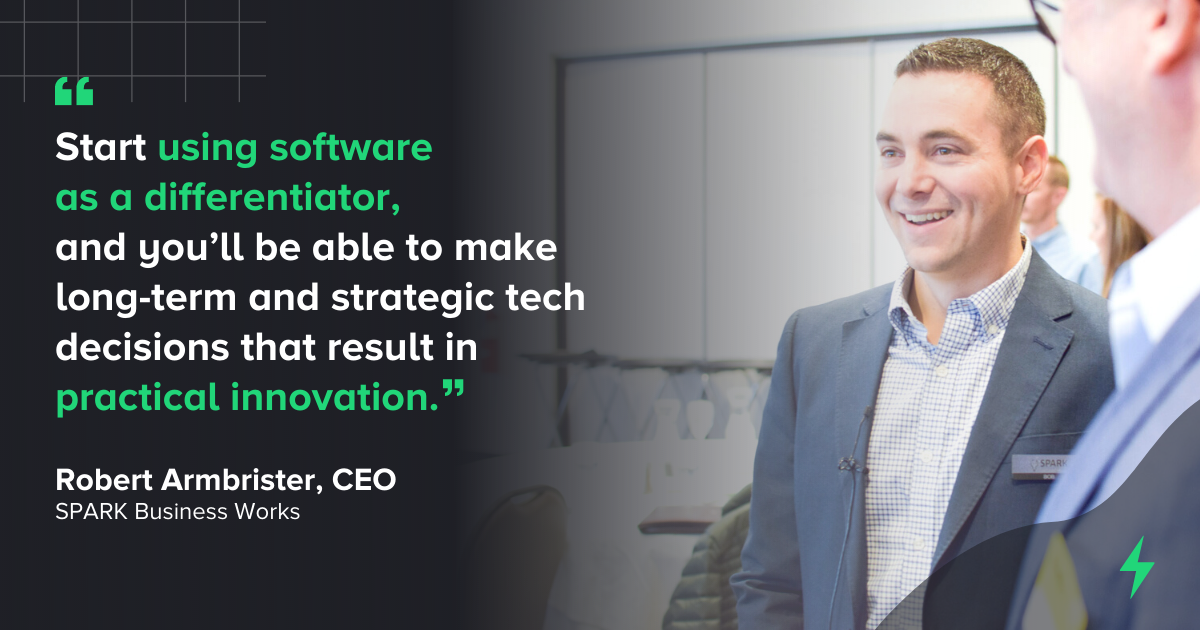 I believe every construction company needs to be a software company.
You need to think like a software company, you need to solve problems like a software company, and you need to build software to manage your operations and client experience…like a software company would.
There are some people who will aggressively disagree with the above statement. They believe their construction business is based solely on their projects, relationships, physical assets or some other type of falsely valued 'differentiator'.
But time after time this mindset gets companies demolished as they try to convince themselves that they're still relevant.
Want examples? Think back on some of the most prestigious companies over the past 20 years that are now irrelevant (even if they're still operating).
The list goes on. All these companies became non-existent because a competitor used tech as a differentiator. They thought like a software company– focus on the future state, manage with quick feedback loops, and have fun.
Tech disruption isn't slowing down either. Today, GM continues to loose footing with Tesla who replaced traditional supply chains with software and code. Who would you bet on to win in the next 5, 10, 15 years?
Construction Needs a New Mindset
But in the construction industry, many leaders are still hesitating to use software as a core strategy. Why?
As the CIO for a construction management firm managing projects in 26 states AND running a custom software firm that has grown 430% serving the construction market, I've spoken with hundreds of executives across the industry. I've heard their stories. And their excuses.
In some parts, it's due to the nature of construction. There's significant variability between projects with a number of moving pieces and people involved. It's not always a simple transition to new technology. And some still feel burned by tech from 10 to 15 years ago that was "one size fits all" and didn't measure up.
But the industry is now at a tipping point.
There's more pressure than ever to build fast, safely, and under budget. It won't work much longer to try to hold your operations together with digital duct tape.
Continuing with the same "old ways" is risking the future of your firm's ability to compete.
But a new tech strategy isn't choosing a couple of digital tools either– especially those that just merely show up at the top of Google.
Instead, it takes a mindset and cultural shift that enables your team to think like a software company.
It means stepping back, identifying your biggest business problems, and designing how you can take advantage of emerging digital technology, data, and processes. It should fundamentally change how you run your projects and provide for clients.
From leadership down, everyone should be asking:
"What if we ______?"
"How might our client experience __________?"
When you start thinking about and using software as a differentiator, you'll be able to make long-term and strategic tech decisions that result in practical innovation. You'll start planning, budgeting, and hiring like a software company. And you just may beat your competition to the punch in your respective market.
As leaders, we must make this kind of thinking our culture. We must continually analyze if our interactions with our clients are SIGNIFICANTLY better than that of our competitors. What kind of experience are we giving them? Is it the Uber experience or is it more like calling a taxi? How can we improve it? How can we operate like a software company?
Your clients have more choices now than ever before. If you don't innovate, you will lose them to countless firms moving faster than you.
Think like Netflix, not Blockbuster.
Think like Tesla, not General Motors.
Because not only will it help your company thrive in the future, but it will be a much more fun path to ride on.
So, how can YOU choose the right digital building blocks?
1. Research Your Innovative Peers
If you're new to technology, it can be helpful to research companies that look like yours in size or trade.
What kind of software mix do they have? If your company has 500 employees, don't think you need to emulate the one that has 5,000. But maybe you could benchmark against someone nationally who is a little further toward your vision.
2. Start Planning for Digitization
What's your big picture strategy? What should your company look like in 3, 5, 10 years from now?
You can start by documenting your current processes and gathering input from your team. Identify your biggest pitfalls and focus on problems that can translate to measurable time savings, better collaboration, and more accountability through data.
3. Evaluate Different Software Approaches
With a strategic plan in hand, you can start to familiarize yourself with different approaches to software. Should you buy another off-the-shelf product that everyone uses? Or could you build custom software that meets your needs exactly?
Talk with a Construction Software Expert
While change can feel risky and overwhelming, you don't have to fear the "unknown." Digitization is crucial to putting your company in the best position to grow.
But I also know that it can be helpful to sit down and talk with an expert first. Every day at SPARK, we help construction companies plan, design, and build custom solutions. If you've got a problem or an idea you want to run by someone, we're all ears. Just drop us a line here.
>