The construction industry is large; it's predicted to account for nearly $13 trillion of the global economy by 2022. It also employs about 7% of the global working-age population.
But, the construction industry is also known for lagging when it comes to adopting new technology trends. In fact, it's one of the least digitized industries.
The good news? The construction industry is starting to embrace digital transformation. Wide-spread labor shortages combined with COVID-19 have made leaders realize the role technology plays in moving their businesses forward in the modern and digital world.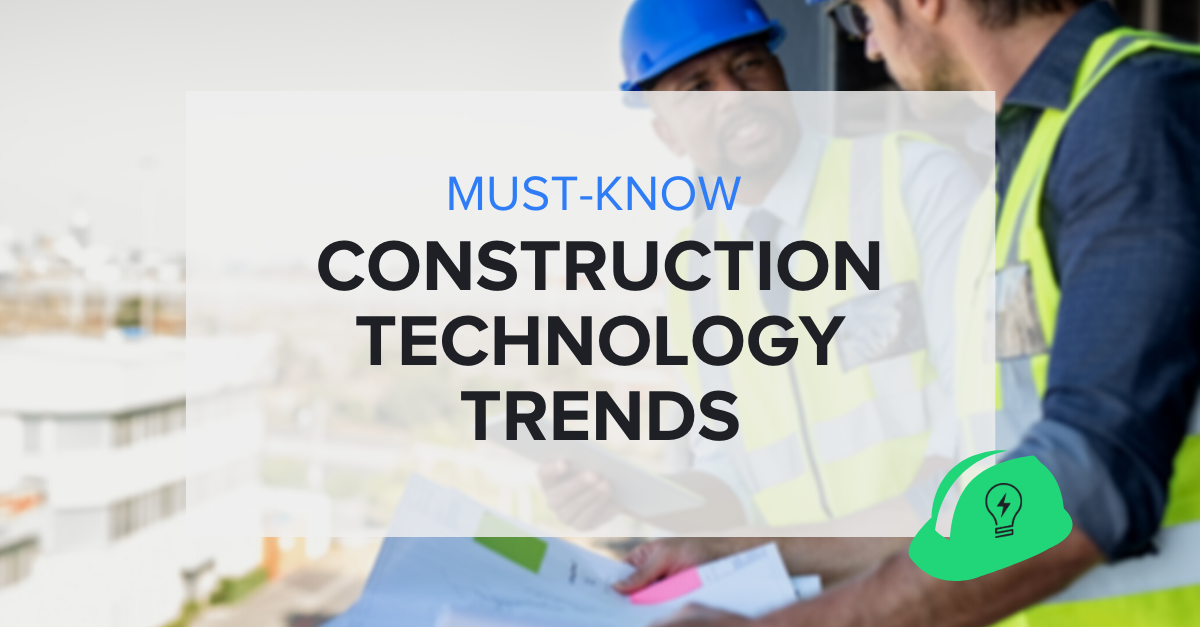 8 Construction Technology Trends You Need to Prepare For
We narrowed all the industry trends into the top 8 that any construction leader should be preparing for.
Click any link to skip ahead to that trend.
1. Attracting Millennial Workers With Technology
71% of millennials say that the degree to which a company embraces technology is a factor influencing whether they would work there, as reported by CompTI.
Unfortunately, the story about millennials and construction is about them NOT joining the construction workforce. This has led to labor shortages and a construction workforce with a rapidly increasing average age.
Between 2016 and 2026, the average age of the U.S. workforce for construction is expected to increase from 42.0 to 42.3 years—"the highest level ever recorded"
Nearly 73% of construction firms report that it will continue to be hard, or get even harder, to find hourly craft personnel over the coming 12 months. And 66% have said they increased base pay rates for craft workers because of the difficulty in filling positions.
There are a variety of reasons for this. But one thing construction companies can do to attract younger workers is to embrace and incorporate technology into their processes. Millennials grew up with technology. They're used to it and expect up-to-date technology in their work.
2. Prioritizing Technology and Automation
29% of small and mid-sized trade contractors are investing in software to automate business processes. Why? Because construction is lagging in productivity, which is hurting bottom lines.
In fact, construction productivity has remained flat for decades, which McKinsey reported costs the global economy $1.6 trillion per year. Making matters worse, large projects typically take 20% longer than estimated and run up to 80% over budget.
There's a lot of time and money wasted through inefficient processes that include manual spreadsheets, paper tracking, and even trying to enter data from word of mouth.
These inefficiencies make it hard for managers to keep their projects safe, on time, and under budget. Without the right tools and data, they can't increase productivity and make better decisions that affect the outcome of their projects.
And, technology and automation is critical when 80% of construction companies cannot find the workers they need. It can help somewhat make up for the lack of workers.
Read stories about successful business tools launched with SPARK →
3. Moving to Cloud Technologies Specific to Construction
The movement of IT infrastructure to the cloud continues to accelerate. 92% of organizations' IT environment is at least partly in the cloud today.
And cloud computing solutions are particularly appropriate for the construction industry to help manage all the moving parts of a project (equipment, personnel, etc.) that are dispersed geographically. And, it's difficult to keep track of what is happening on the ground.
But, cloud computing and apps give you the ability to access construction software at any time and any location as long as you have an internet connection (which will be even easier with 5G networks).
These cloud solutions are replacing old legacy software solutions that only exist on the computers in the back office. Instead of a PM going back to the office at the end of to enter data, they can now conveniently enter that data directly from the field, making it immediately accessible to the rest of the team.
And, construction leaders are looking for construction-specific solutions over general business software. Leaders need flexible and customizable software to meet the requirements of any given project to keep them safe, on time, and under budget.
4. Moving to All-In-One Business Management Software
As leaders embrace technology, they're quickly realizing the benefits of an all-one construction management platform instead of cobbling together several one-off solutions.
All-in-one platforms provide a centralized location, or "single source of truth" of your data for actionable insights. These platforms include several modules for scheduling, estimating, job costing, CRM, work orders, and more. The main advantage is that the modules are natively integrated and combine all aspects of your operations into a single place. You can even choose and add modules as you need them.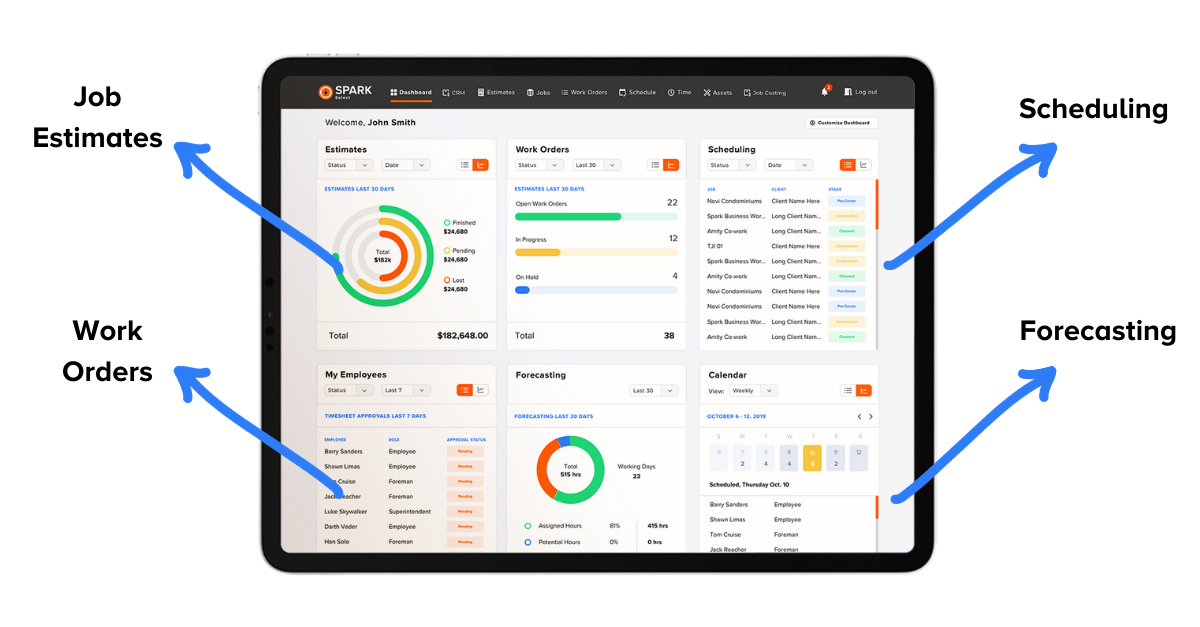 This is in contrast to working with multiple single purpose applications. In 2020, 63% of construction workers use 3 or more apps at their construction jobs and 22% use 6 or more.
Instead, a single unified digital location is more efficient than having project information spread out over various apps such as spreadsheets, messaging conversations in WhatsUp, photos in DropBox, etc.
5. Leveraging Mobile Apps
The use of mobile apps continues to accelerate as smartphones are the most used technology on job sites on a daily basis. Construction (like all industries) will benefit by the rollout of 5G wireless technology that will become more widely available in 2021 and 2022– which will increase speed, increase capacity, and lower latency.
5G's advantages will likely lead to even more mobile app usage in the construction industry. The increased speed and capacity it will provide will also likely allow software providers to make apps even better and more feature-rich than they are now.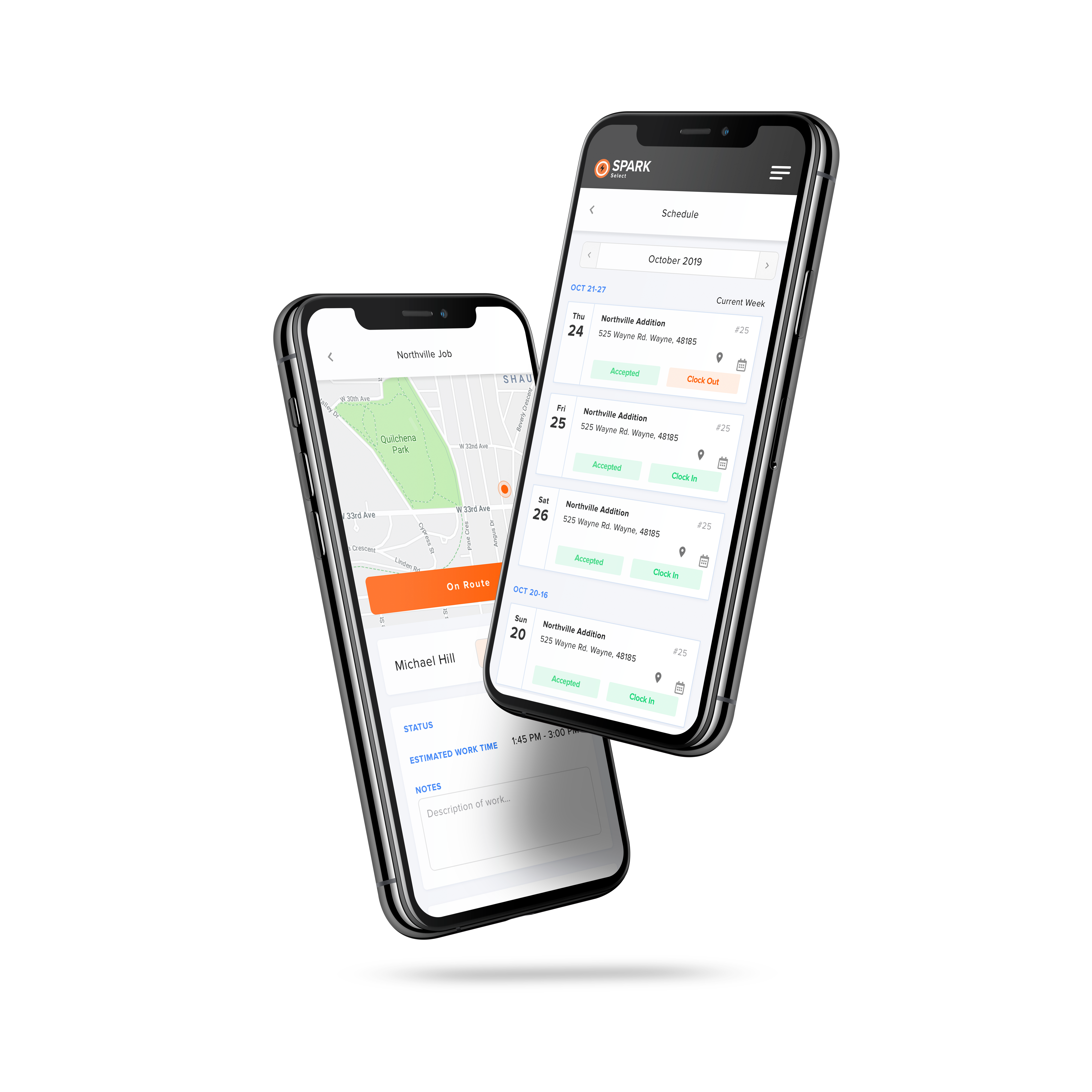 Read more about the benefits of construction mobile apps for your crews and projects (with real examples).
6. Modular Construction
More leaders are turning to modular construction because it can speed construction by as much as 50% and cut costs by 20%. In 2020, 78% of commercial construction used prefabrication last year.
The global market for modular construction was about $111 billion in 2018 and is projected to increase to $175b by 2025.
7. Increased Focus on Safety
Safety is a critical concern in the construction industry. In 2019, about 20% of the deaths that occurred in private industry were in construction. And, COVID-19 has only increased the need to focus on safety. A recent study found that construction workers had nearly 5-fold increased risk of COVID-19 hospitalization risk to workers in other occupations.
Tech innovations that help with worker health and safety include smart PPE wearable technologies and SPARK's own Easy Safety Forms, that help managers track the health of their worksite during the pandemic.
Safety and quality are strongly associated because projects that are built to quality almost always have worker safety as a priority.
8. Blockchain
Blockchain is a new and emerging technology that will potentially have a big effect on the construction industry. Outside of bitcoin though, what is it exactly?
Blockchain is a technology that uses advanced cryptography to secure recordkeeping in a way that is virtually unalterable. It's an electronic and distributed ledger system that can record transactions between parties in a way that is efficient, verifiable, and permanent. It facilitates the process of recording transactions and tracking assets.
You can also describe it as "just a list of transactions copied so many times that a human being cannot go in and make a modification to a ledger without causing a lot of alarm bells to go off."
Outside security though, its main advantage is that it eliminates the need for expensive third-parties to authorize transactions such as lawyers, accountants, and bankers.
How might it be used in construction? You can think of it as an automated bookkeeping system. One example is if a contractor pours 100 yards of concrete at a job, a gauge on a truck could signal when it is done, automatically generating an invoice for the work, and triggering the payer to instantly deposit payment into the contractor's account.
Other potential uses are as a single source of truth, using it to track from where materials originate, and using it for smart contracts (where payment is triggered automatically when certain milestones are met).
How to Stay Ahead of Your Competition with Technology
To stay ahead of the competition, you must evaluate your business and see how well you're adapting to trends like these technology ones.
To keep learning more about construction technology best practices, check out these other articles:
>