The construction industry is finally starting to change. After the impact of COVID-19, more leaders are recognizing and taking advantage of technology for efficiency and growth.
But if you're just starting out with digital change, it can be hard to prioritize what processes to transform first.
After helping hundreds of others adopt tech, we recommend starting with a fast and simple tool that impacts your operations: capturing time and field data on your jobs sites with mobile devices.
It may not be as exciting or fancy as robotics. But it's an easy win with your teams and you'll use it every day.

Why You Can't Wait Any Longer to Use Tech in the Field
As a contractor or manager, you're under more pressure than ever to complete your jobs faster, safer, and under budget. You know every minute and dollar counts.
But you're still relying on manual processes to collect field data and it's just barely working. You're cobbling together paper forms, spreadsheets, and even relying on word of mouth info.
But these are the tried and true processes you're used to. Is change really worth it?
Yes it is. Using tech for field data collection is easier than ever.
Your employees already have the devices you need– smartphones. In fact, 92% of construction employees have their smartphones on them at job sites.
We've even seen firsthand that employees are happy to use their own devices on the job, if they're simple and make their work easier.
For example, SPARK's Safety Forms turned a paper COVID-19 health screening form into a digital process all captured on a smartphone. To date, our forms have been used on over 850+ job sites and have helped keep job sites safe this past year.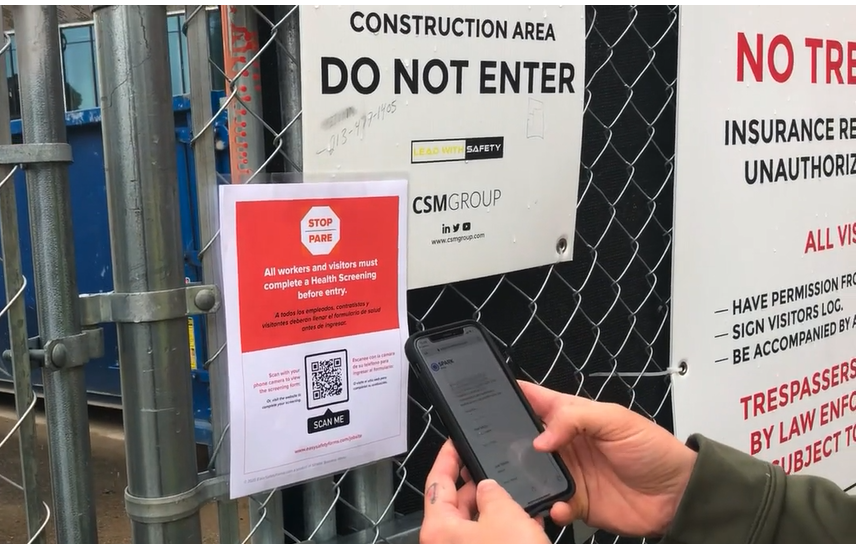 How Time and Field Data Collection Works
Here are some of the main opportunities of using mobile apps for daily collection of job data on worksites.
1. Instantly Capture Time Entries
Manual time tracking is a constant admin headache. Workers have to remember to track their time and physically deliver it. Back office admins have to constantly track workers down or spend tedious time re-entering data into an accounting or payroll system.
It's an inefficient process for a critical process. It makes it hard to get pay stubs out on time and track your crew's productivity and its impact on profitability.
Fortunately, you can replace paper timesheets with simple mobile apps that:
Allow workers to clock in and out from their own smartphones
Use GPS and geofencing to ensure workers enter time at jobs sites
Sync time entries directly with accounting/payroll or job costing systems
Set alerts and reminders for missing time entries
Report on crew productivity
This makes a daily process a lot easier for both field employees and back office staff. It reduces frustration and wasted time on data entry.
No more lost time sheets, forgetting to enter time until the end of the week, or scrambling to track down field employees (pulling them off jobs) to try to make sense of their handwritten entries from the previous week.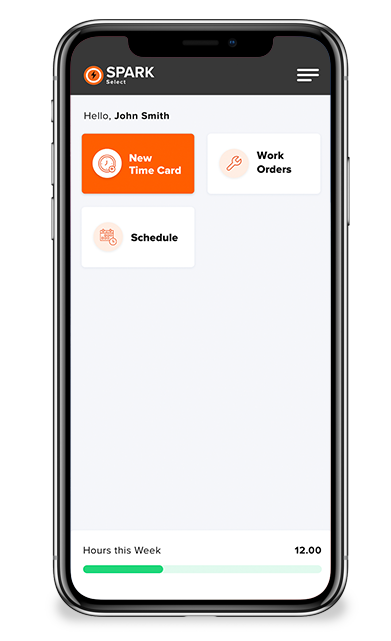 2. Digitize Daily Job Reports
Site managers and overseers have to document everything that goes on at the worksite. But like time entry, daily job reports are traditionally collected through paper forms that slow down the process.
A stack of daily reports can sit in a manager's truck for a couple of weeks until he gets back to the main office. Job site photos or safety incidents might only exist in emails or texts.
Your current processes are difficult to track and follow up on. It's hard to share important info with others when they need it.
Like time entry, daily job reports can also be captured through mobile apps. You can:
Instantly capture any field data you need on job sites in real time
Save time and reduce the number of forms needed
Capture photos and attach to job information for better organization
Easily share info with others
3. Automate Data Reporting and Alerts
A major advantage of digital data collection is that you can use it to feed into real-time dashboards. Supervisors and management can check this dashboard at any given moment to review job progress or negative trends that need attention/
For example, you can compare a project's status to its proposed budget. Being aware of any issues like going over budget need to be caught early so you can take the right action to fix it.
With dashboards, you'll have accurate job data anytime, anywhere, not just once or twice a month!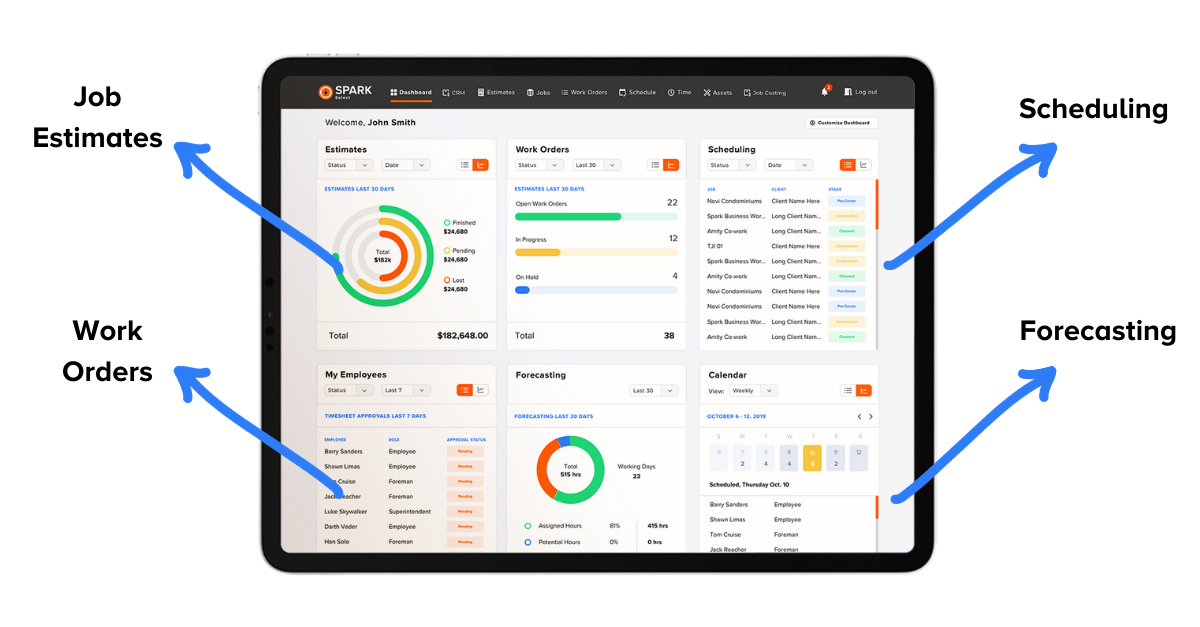 → Read more about how a 'single pane of glass' dashboard can help you manage the ins and outs of your operations.
4. Sync Field Data to Back office Systems
You can also integrate your time and field data from your mobile apps to your back office systems like accounting, payroll, or job costing.
Integration allows you to eliminate manual data entry and automate the movement of data from one system to another. You'll have faster and more accurate workflows.
How much time could automation save your back office teams? How else could they be helping the business instead of worrying about data entry?
Real-world Example: James E. Fulton & Sons Saves Days Worth of Work
A leading Michigan construction and excavation service company, James E. Fulton used to track over 1,000 pieces of paper per week. This caused limited insight into equipment maintenance and manually generated weekly client updates.
Fulton's Financial Controller Cris Nichols remarked, "I've greeted every Monday morning as a paperwork nightmare! The more employees you have, the bigger the mess."
When they were ready to change, they partnered with SPARK to launch a custom mobile app that automates all HR functions, job site management, and weekly updates. They've turned their weekly mess into a single interface for time entry and billing. It's a smooth and consistent process that employees love and saves days worth of work.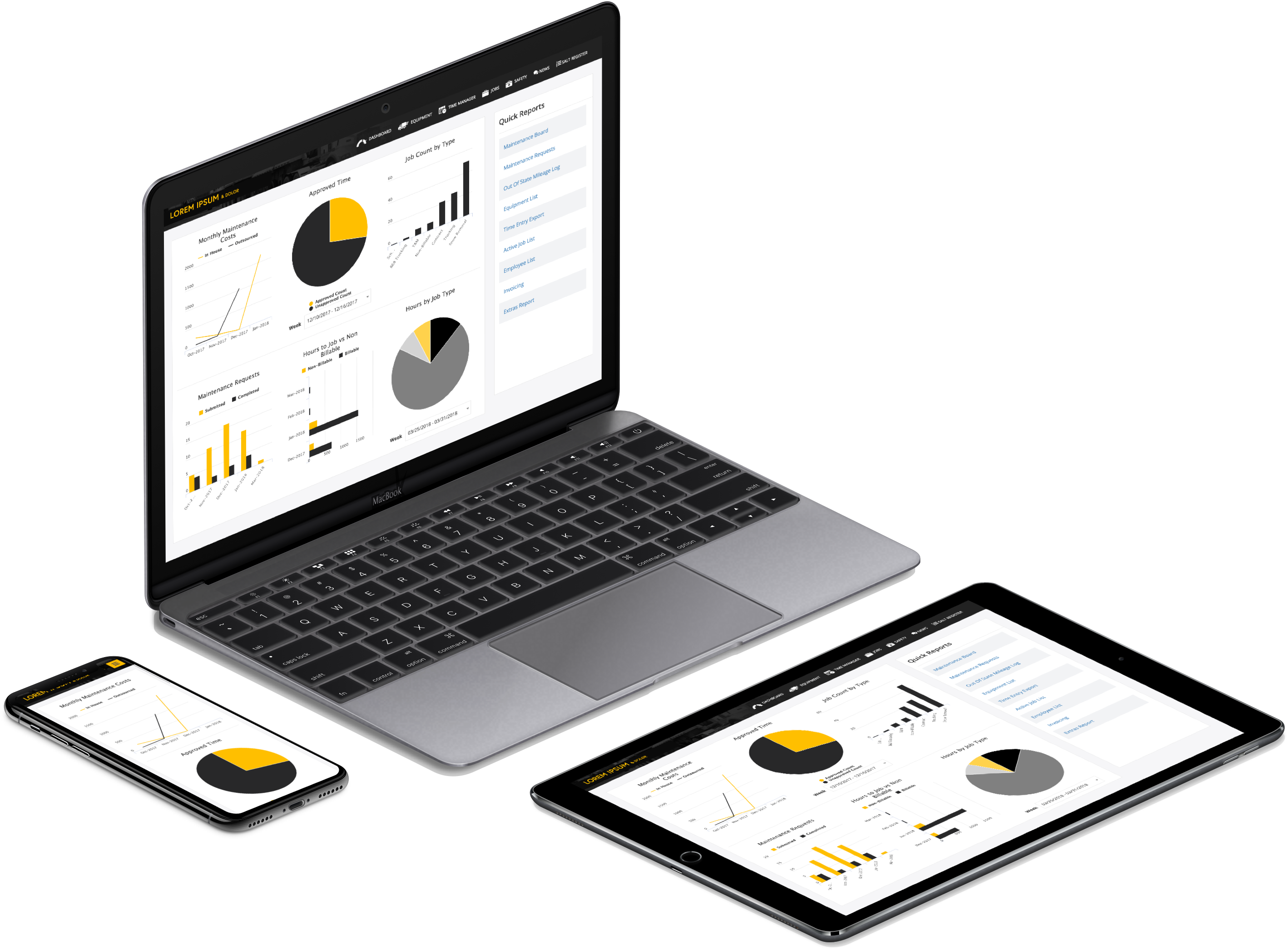 Read more about the benefits of construction mobile apps and other ideas →
How to Get Started with Digital Field and Data Collection
Does this sound like something you need? Great!
One of your first steps is to uncovering some of your biggest pain points in your current processes. Ask your team for their input on:
What processes should we streamline?
What important data could we be capturing with an easier workflow?
What will motivate them to use a new tool?
Look for repetitive and inefficient employee tasks like:
Writing out forms for Time Entry, T & M, Safety, Dailies, etc
Managing scheduling changes and issues
Manually transferring data from one system to another
Piecing together costing and job reports
For more guidance, you can check out how to plan for digitization and download our free preparation checklist.
Working with a Tech Partner
Most construction companies don't have an in-house dev team ready to handle new software project. And that's okay!
You can work with a software development partner like SPARK to build and support your solution.
To get started, check out how SPARK can help you build a custom construction management software with time and field data collection.
Or, read our case studies to see how other construction leaders have digitized their businesses.
>