A lot of construction leaders still struggle using field data needed to operate their business. They're relying on paper forms, spreadsheets, and word of mouth to track worker's time, job progress, and equipment. And these manual processes are slowing operations down and hurting the bottom line.
Realizing this, forward-thinking leaders are turning to familiar technology to collect real-time field and time data– mobile apps.
A recent survey of contractors and construction workers found that 92% of them use their smartphones every day while on the job. And, 22% of them even use 6 or more construction apps.
So, what's the opportunity of mobile apps? How can they help you keep your projects safe, on time, and under budget?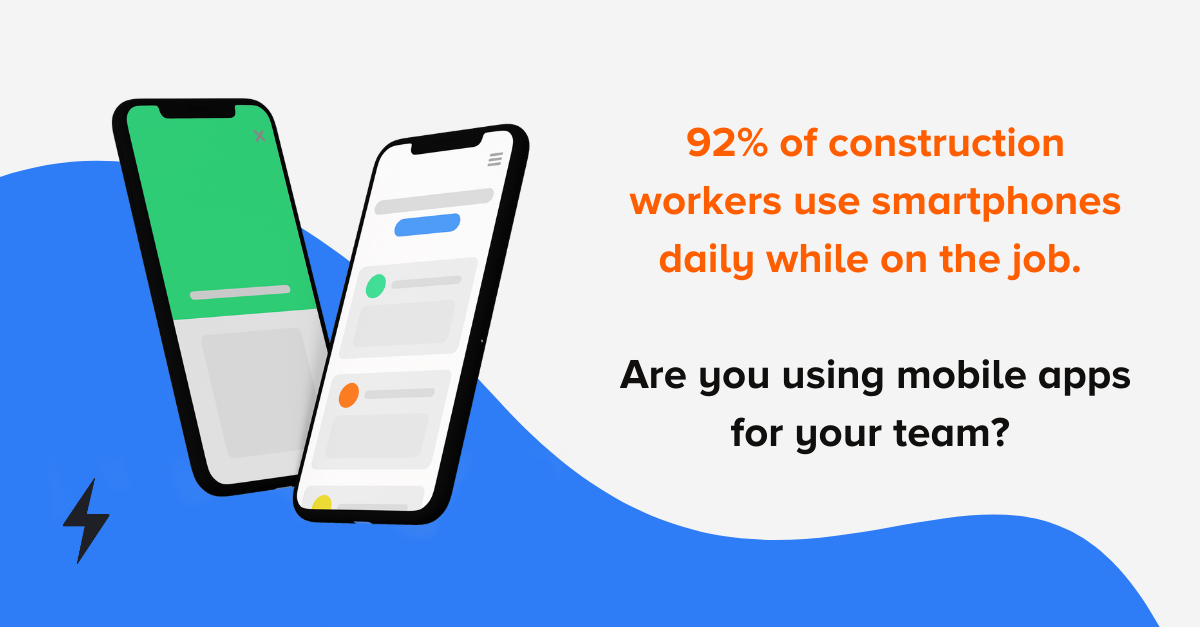 Benefits of Using Construction Apps
29% of small and mid-sized trade contractors are investing in software to automate business processes. They're turning to tools like mobile apps to connect field and time data to the back-office in real-time.
Here's the main benefits of using construction apps:
Saves Time and Improves Efficiency
Using apps saves your employees time and improves efficiency. By having workers use their own devices like a smartphone, it gives them access to the information they need, when they need it. And, they can automatically share it with other employees and supervisors. Sharing accurate data in real-time keeps everyone aligned.
Maintains Data Integrity
When workers need to manually enter data from various papers, spreadsheets, or their own memory, they're prone to make mistakes. And, this double-data entry into other systems by your backoffice into an ERP or payroll system is time-consuming. But, when you automate these tedious tasks through digital tools, you can retain your data's integrity to save time and eliminate any costly mistakes.
Real-Time Data
Through integration and automation, mobile apps give you access to real-time data. You don't have to wait days or weeks to collect, enter, and process field and time data. With the right workflows in place, you'll always have the most up-to-date data at any given moment.
Keeps Employees Happy
Employees don't want to spend their time on tedious and manual tasks like data entry. This necessary part should be efficient so they can get back to more important field work. This is especially true of today's younger workers who grew up with technology. They want to use the same digital tools they have in their personal lives.
Read stories about successful construction digital tools launched with SPARK →
Top Construction Apps to Use
Over the years, there's been no shortage of construction apps for all sorts of functionality. But here's the top apps that provide the most value for any size construction business.
1. Daily Reporting Apps
Most leaders can't fully rely on manual processes and spreadsheets to make timely and informed decisions about their operations. But through automation and logic, you can aggregate your data from various sources into a visual story that clearly shows how your teams and projects are doing. And, you'll have full confidence that you're making the right decision based on accurate data.
2. Scheduling Software
There's no doubt that scheduling is one of the most difficult parts of construction. There's a lot of variables like personnel, job locations, certifications needed, and more. But most of the time, leaders have handled scheduling by using whiteboards, emails, notepads, and more. Fortunately, there's apps that can simplify the scheduling process for everyone and make schedule changes immediately accessible.
Real-world Example:
Inspired by ESPN's draft boards, Andy J. Egan leveraged SPARK to build their own scheduling app to replace their whiteboards, Post-it notes, and Excel spreadsheets. Their app now helps them manage over 300 skilled laborers, in-house engineers, BIM specialists, and maintenance technicians. It's mobile-friendly and available on 85″ touchscreen monitor.
3. Tracking Materials and Equipment in the Field
A lot of time can be wasted trying to track and find the materials and equipment used on your job sites. You can simplify the process by allowing workers to search and check in / check out the tools they used right from a mobile app. The process is quick and simple, while preserving data integrity.
4. Audits and Incident Reports
Mobile apps can also help you to expedite both audit and incident reports. You can record photos and videos right in the app, then complete and share the report with the right people. Learn more here.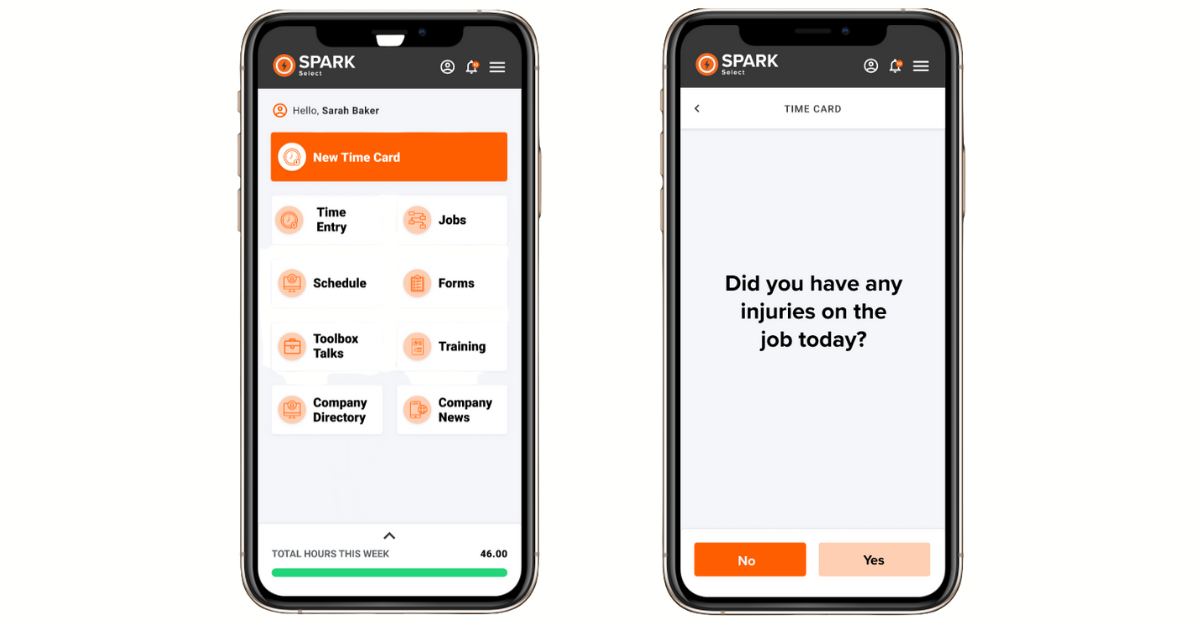 What Can Using a Mobile App Look Like?
Still not sure how your teams would adopt a mobile app? Take a look at our real-world experience with SPARK's Easy Safety Forms.
Last spring, SPARK developed the simple mobile app Easy Safety Forms to serve as a digital health screening form for job sites to comply with the CDC's COVID-19 guidelines that required management to screen their workers for symptoms before entering a job site.
Before using Easy Safety Forms, workers were huddling together at job site entrances or in trailers to fill out paper forms. And someone had to manually sort and flag any potential health risks to alert supervisors. This ineffective process put the health of workers and the success of jobs at risk.
This mobile app turned a manual (even unsafe) process into a simple and fast digital workflow. How does it work?
Companies receive a custom poster to put at the entrance to a job site that includes a scannable QR code. When workers scan the QR code with their phones, a digital health screening form is launched for them to fill out on their phones. The data is stored and synced in a digital spreadsheet that automatically alerts managers of any risk triggers.
To date, SPARK Easy Safety Forms has been used successfully at over 700+ job sites. Within the first six months of its release, it captured more than 540,000 submissions.
Getting Your Own Construction Mobile App Can Be Easier Than You Think
You can use the same mindset as SPARK (creating easy, fast, and simple tech) to launch a mobile app successfully for your teams and projects.
If you're ready to see what's possible for your organization, check out how SPARK can help. We build custom construction software for:
T / M Work Orders
Resource Planning
Assets / Maintenance
Keep learning about easy ways to digitize your business:
>