Manufacturing is a tough industry to be in. On one hand, there are promising signs of growth and economic rebound after the pandemic. But there are also serious risks to watch for (like workforce shortages, supply chain instability, and cyberattacks) that are threatening operational efficiency and profitability.
Meeting these challenges head-on, some organizations are poised to overcome them and rise to the top. And it's those embracing technology that keeps them a few steps ahead of the competition.
As you plan your firm's future operations and software roadmap, ask yourself: what can you do that will keep you not only efficient and profitable– but also innovative enough to stay ahead of market trends?

Using Software as a Differentiator to Stay Ahead
According to the 2021 State of Manufacturing Report:
95% of manufacturing leaders believe a digital transformation is essential to their company's future success.
91% have increased their investments in the past year and 77% said their increase was significant or dramatic.
In other words, simply undertaking new tech initiatives isn't going to set you apart from others. Nor is choosing a few apps or popular "off-the-shelf" tools to test out (more on that below).
Instead, the best way to future-proof your manufacturing business is by using software as a differentiator.
What does that mean?
It means stepping back, identifying your biggest business problems, and designing how you can take advantage of emerging digital technology, data, and processes. It should fundamentally change how you run your operations and provide for clients.
This mindset shift is what I often refer to as "thinking like a software company." It means you're thinking about and using software as a differentiator in a way that enables you to make long-term and strategic tech decisions that result in real innovation (that, ultimately, keeps you ahead of others).
Framework for Future-Proofing Your Software Roadmap
With the right mindset, you can use this framework to start planning for your future software roadmap.
1. Plan for the Long Term
While your business may have some obvious needs to immediately address, it's best to look past those at first and consider your big picture strategy.
What should your company look like in 1, 3, 5 years from now?
Too often roadmaps focus only on short-term demands, which can cloud your vision of what's going to set you apart in the future. The result? You end up constantly playing catch up with your industry leaders.
During initial discovery and planning phases, gather input from key stakeholders across different departments to fully understand their wants and needs. Challenge them to answer questions like:
How can we improve our current operations? What's working or not?
What's their reason(s) for change?
What are their top priorities? Why?
What is the UNIQUE way you operate that could be amplified by the right technology?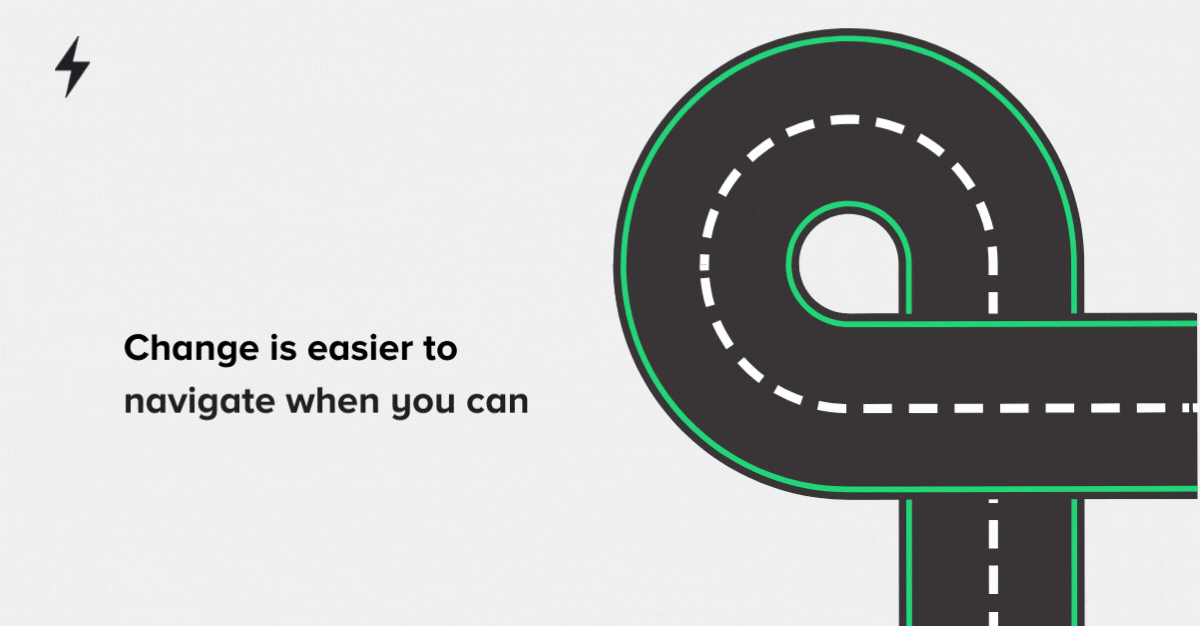 2. Research Your Innovative Peers
It can also be helpful to look outside your company for inspiration. How are your peers (whether in your industry or not) approaching the same problems that you're having?
Conduct research into how other businesses are managing their operations — what are they doing that works, what are they doing that isn't, and what practices of theirs might you be able to incorporate into your systems and strategies?
Then, ask yourself how you can experiment with different options that you've gathered. How can you improve upon what the competition is doing and how will you determine what works for you?
Understanding the current technology landscape is crucial to knowing how you can leverage it for your own business. How can technology differentiate your own operations and/or products?
3. Evaluate Different Software Approaches
As you start seeking out solutions, you'll find there's no shortage of software options available for manufacturers. There's everything from ERPs to factory automation and 3D modeling. All of them aim to improve efficiency, quality, security, sustainability, and more.
But the real challenge is comparing different software approaches.
Yes, there are plenty of off-the-shelf manufacturing software solutions. But they're built to serve the masses within an industry. Think of popular systems like Fishbowl, NetSuite ERP, Prodsmart, and more.
While these solutions can be valuable, they don't always give your team the flexibility and customization needed to amplify the unique way you operate. Using the same software as everybody else in the industry can keep you at the same level as everyone else using it.
Fortunately, there's another approach manufacturers can take advantage of: building custom software.
Developing custom manufacturing software can be a great fit for:
Combining several systems into a single custom manufacturing management platform
Replacing a current legacy system or updating it to a modern architecture
Building custom reports and dashboards that connect into your existing systems
Comparing different software approaches like custom versus off-the-shelf can open your way of thinking and ensure you're on the innovative path you're looking for.
4. Building in Phases (Focus on ROI)
As you go through these planning exercises, you'll likely end up with a laundry list of software ideas. And you might be tempted to tackle everything at once.
But don't look at your 3 or 5 year plan as one project that gets implemented all at once. Rather, look at where your business should be at each of those milestones along the way.
Focus first on small projects or quick wins that will impact the bottom line AND will get you to that desired state at the end of year 1.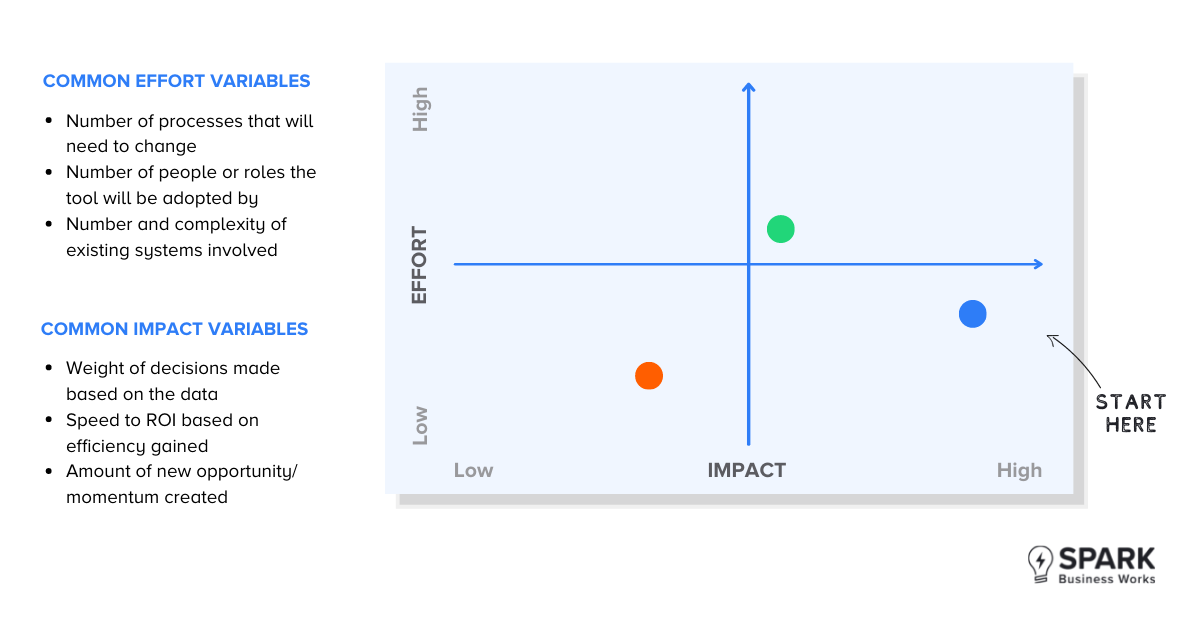 Building and adopting tech in phases is critical for a few reasons:
You'll focus on smaller, more manageable projects that are more likely to be successful.
Quick wins can boost confidence and get buy-in for change across the organization.
Demonstrating ROI early builds momentum into the next phase or project.
More importantly, building in phases can be the difference in whether your decisions are future-proof or not. After each phase, you should be agile enough to change ideas or projects as your business needs and industry trends evolve.
Think of your roadmap as your 'north star' of where your operations are heading. Yes, it should guide you along the way, but your software choices and decisions now shouldn't totally lock you into something that doesn't make sense in 1 to 2 years.
Talk with a Manufacturing Software Expert
While change can feel risky and overwhelming, you don't have to fear the "unknown." Using software as a differentiator and planning the right software roadmap can put your company in the best position to grow.
At this point, we know it can be helpful to just sit down and talk with an expert first. Every day at SPARK, we help manufacturers plan, design, and build custom solutions. That's why we're passionate about helping firms achieve their goals with the right technology.
If you've got a problem or an idea you want to run by someone, we're all ears. Just drop us a line here.