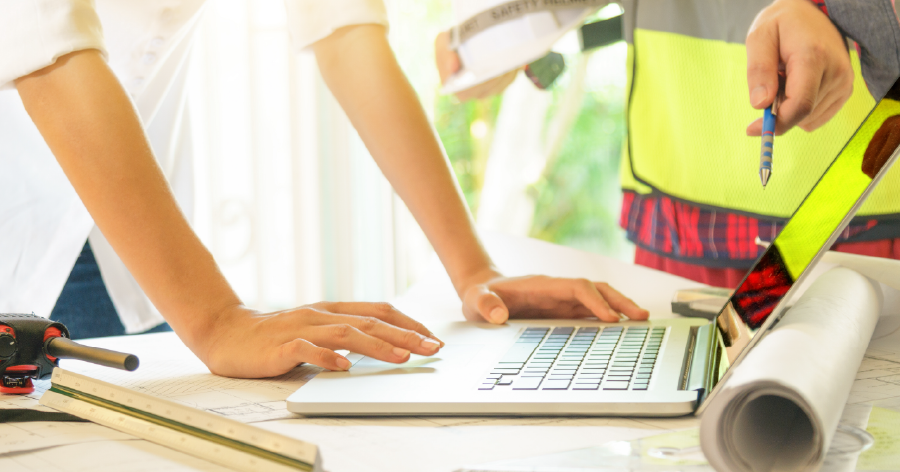 A new construction job opportunity is exciting, but getting to takeoff can be a tedious process. You're committed to creating an accurate estimate in time to make a bid, but there are several factors that can get in the way. It takes time to create an estimate, and each bid is unique so it's hard to replicate.
With QuickBooks, you have a valuable trove of information. You know how long it takes to complete a given amount of work, the materials involved, how many workers are needed, how much it all costs, and how much your markups are. This information provides an excellent jumping-off point for creating an estimate on your next bid.
The problem arises when it comes to getting the figures from QuickBooks into your chosen estimating application. If you're copying and pasting, you'll find that the process is slow, introduces the possibility of error, and doesn't take full advantage of the software's capabilities.
If you begin digitizing your business by finding construction estimating software that integrates with QuickBooks, you'll be well on the way to nipping problems in the bud.
>
Estimating Challenges That Plague Construction Companies
First, you're most likely creating a large number of bids – and even the most reliable company in the construction industry isn't going to win every bid. To stay profitable, you need to bid as often as possible – but each significant estimate can take a long time. What's more, 83 percent of the bid creation process involves filling out forms, which means that you may spend most of your time filling out the same forms over and over.
Second, estimates won't look the same for every organization. There are many kinds of cost estimates, and each customer will specify different levels of detail. At the end of the day, you may be handing in a one-sheet or estimate the size of a phone book, depending on what the customer wants. Creating an estimate is never a rote exercise.
Third, submitting an estimate doesn't mean that it's done. You may be asked to go back and change individual elements of a submitted estimate to fit evolving customer requirements, adding to your stress and workload.
This is a fixable problem. If you're using QuickBooks, you have a record where all of your prior spending is recorded. You can use this data to help create estimates for your next construction project, or to validate that your current project is on budget and on time. What's more, by integrating your construction estimating software with QuickBooks, you'll be able to reduce much of the estimating process with the push of a button.
Why Integrate QuickBooks with Your Construction Estimating Software?
For many construction companies, QuickBooks functions as a record of your Material Take Offs (MTO). It records what you've spent on your MTOs, as well as the markups that will determine the profitability of your construction project. This information is critical when it comes to creating an accurate and detailed estimate for your prospective customers – as well as making sure that your balance sheet stays in the black.
Manually copying this data from QuickBooks to your estimating software can take a lot of time. It also introduces the possibility of errors – for example, copying something from one field in QuickBooks and mistakenly pasting it into the wrong field in your estimate software. This kind of error can multiply, throwing all of your projections off.
When your estimating software integrates with QuickBooks, the numbers you need auto-populate. You won't need to constantly flip between two applications to create your estimate. This eliminates the possibility of an error, as well as much of the grunt work when it comes to creating an estimate.
By auto-populating estimates from QuickBooks, you'll be able to speed the process of creating estimates, even when customers ask you to use different templates. Although every estimate will be different, integrating QuickBooks with your estimating software means that it's even faster to respond to varying RFPs. Similarly, if the customer requests changes after the fact, it's that much easier to go back in and update the estimate to suit their requirements.
Creating a digital estimate with information from QuickBooks gives you yet another technological jumping-off point. In this case, it gives you the ability to use your digital estimate as a basis for scheduling once you begin breaking ground. Your estimate already contains a construction schedule, so why not use this data within your construction scheduling software? You'll be that much more likely to stay on schedule.
The same is true when it comes time to bill your client. Using your integrated construction management solution with QuickBooks, you'll be able to seamlessly convert your estimates into invoices. Instead of billing once the project is completed, you can bill fractionally as major project milestones are achieved, which ultimately helps you build a steady stream of predictable revenue for your company.
How to Integrate Construction Estimating Software
At SPARK, we know that your workflow is important to you. If a new method of creating an estimate can't replicate crucial facets of your process or omits essential data, you are much less likely to adopt it. The solution you and your co-workers are looking for might be less of a revolution and more of a streamlined version of what you already know.
With that in mind, ideal construction software should offer additional features that go above and beyond what you're doing right now. These might include analytics, integrated reporting, project management tools, or the ability to import multiple accounting applications into a single estimating application.
Lastly, if your current construction management software doesn't integrate natively into QuickBooks, or if it doesn't do so in a robust, well-documented, or stable manner, SPARK can help.
Using custom construction software, you can rapidly bridge the gap between QuickBooks and construction estimation software, add essential features to your existing software, and work the way you want to. Contact us for more information today!