Right now, construction leaders like you are doing strategic planning.
Tech touches every part of that plan, but what's the current state of your data? Can it help you win NOW? If you're like others, the answer is probably… 'sort of?'.
Well, with 63% of construction workers already using 3 or more apps at their job sites and the post-pandemic coming, your teams are ready to be connected.
So tech strategy in 2022 will be different. It's not about how many apps you have. It's about using data to differentiate your services and thrive.
Data is the raw material that will propel some firms to the top. Is your job data, customer data, labor data, and financial data working to your advantage? Or are you just barely keeping your head above water?
You know you need to eliminate risky workarounds. So, take a look at the approaches below for connecting your data, people, and processes.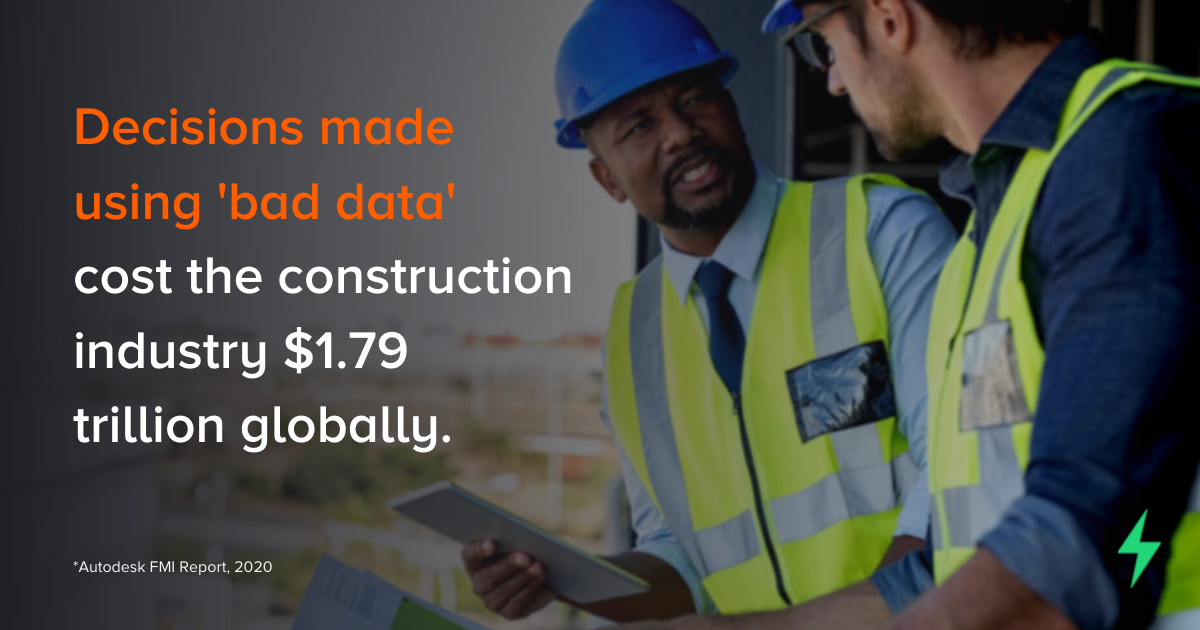 The 80/20 Rule in Construction
Before you can look ahead, you have to consider where you are now.
You've heard of the Pareto principle, or the 80/20 Rule, right?
In construction, it's often used to describe that 20% of your operations can account for 80% of your time or resources.
In other words, that 20% is what's killing your team's productivity– and your margins.
Now let's apply that rule to your tech landscape.
For many, your current software (ERPs, accounting, CRM, project management, etc) manage 80% of the work in your business. The remaining 20%? You're stuck with workarounds that just barely make things work.
It's your talented back-office manager who spends 10+ hours a week entering data in 3 different systems. It's your rockstar superintendent who's still driving back to the office to get the job reports he needs to fill out the crew's schedules.
It's what we call the "messy middle"–where you're stuck trying to wrangle together info from disconnected systems, paper forms, spreadsheets, and even word of mouth.
This way of doing things isn't scalable. And it's costly. (Did we really have to tell you that?)
Bad project data results in poor decisions almost half (41%) of the time and is estimated to account for 14% of all rework performed in 2020.
Yet, leaders continue to try to operate this way. They turn to another spreadsheet. A big stack of paper reports. Or, some other 'wizardry' that their developer brother-in-law showed them one weekend.
But a spreadsheet is NOT a database. A macro is NOT digital transformation. A Zapier plug-in is NOT a competitive advantage.
With today's challenges – low productivity, labor shortages, and more complex projects– it's time to stop trying to hold things together with digital duct tape.
How to Fix the Messy 20% and Meet Your Business Goals
One of the best ways to level up your tech strategy is through real-time data sharing, which can help:
Connect the back office to your crew for efficiency
Visualize daily insights for better decision making
Gain a competitive advantage over others
Make your firm an interesting place to work for the next generation of employees
But how should you go about it? Should you download the latest off-the-shelf tool with the highest Google ad on the page?
Not quite. Those were made for the "average" construction company. If that "last 20%" pain is real to you, it's unlikely something off-the-shelf can account for your unique…mess opportunity.
Fortunately, there's an option that not every firm knows about – custom software. A software development partner can design and build user-friendly solutions (like mobile forms, workflow automation, dashboards, etc.) that connect your existing systems, processes, and people.
Depending on the size of your business, there's different ways to leverage custom software.
For mid-size, growing companies, you can turn the chaos of paper forms, manual processes, and word of mouth data into custom digital tools and workflows.
For enterprises, you can get the most out of your existing systems by integrating your data and building custom tools on top. (See below.)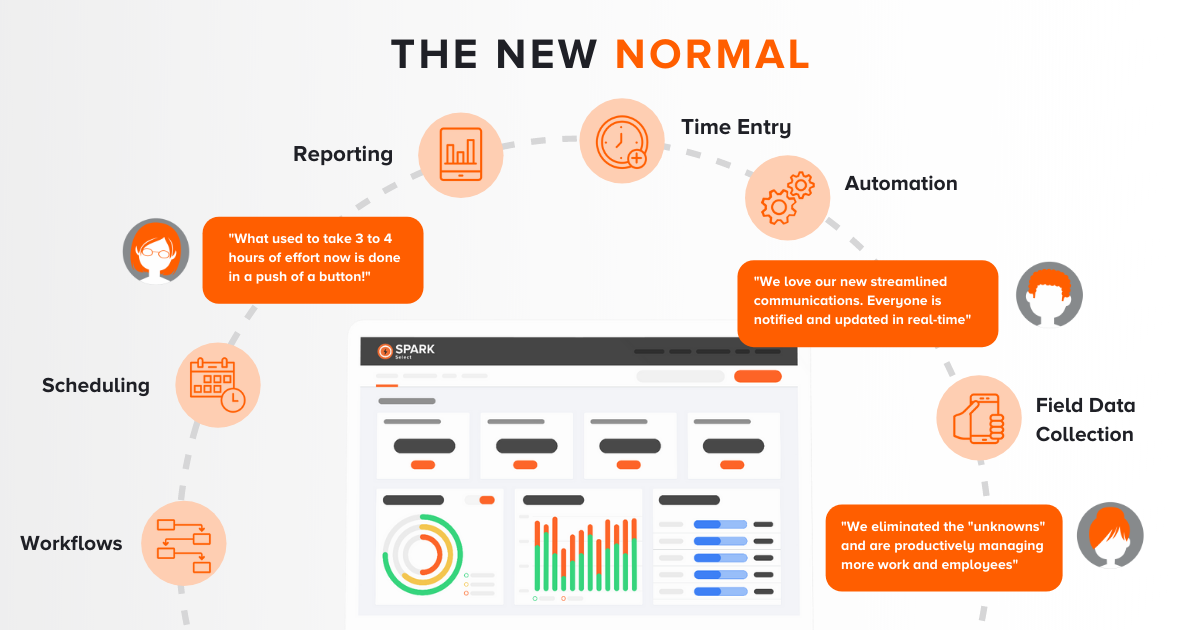 For Mid-size Companies: Build the Right Digital Tools
Typically, when companies grow above 100 employees, manual processes start to break. Payroll becomes a slow and painful process. Scheduling is a nightmare. Info from the field is late and inaccurate.
Whatever worked in the past doesn't anymore. You're too big to work like a small company could. And you can feel the risk of not having a stable, digital foundation that connects the data currency of your business.
The crazy thing that we've found with firms that have a 100-500 person headcount is that 80 percent of the time, background process information is just in the employees' heads. Key decisions are being made by just going off of memory. Yikes.
When it comes to solutions though, many assume they have to first invest in a big, "all-in-one" piece of software that may or may not work. In fact, a lot of these solutions are too risky for a mid-size company to go all-in on. And you don't have an IT department to manage them either.
Fortunately, that's where custom software comes in. It can give you more flexibility than off-the-shelf and allow you to build software at your own pace.
Build Custom Digital Tools One at A Time
When starting with tech, we recommend construction firms identify and prioritize their biggest pain points first. Look for inefficiencies to solve that won't take a lot of effort– but will have a big impact. This is how you methodically beat your competition to the punch.
[RESOURCE: Custom Software Planning Survey – Use to start gathering input from stakeholders]
Focusing on incremental improvements over time can ensure you're choosing tech that will get adopted by your teams– all while staying in control over spend and ROI.
To see how others have done it, read this story about a Midwest mechanical contractor who doubled in size. Frustrated by off-the-shelf products, they turned to custom software to strategically ditch their workarounds. (This story includes some actionable tips for helping get adoption with their field teams who LOVE the simple solution).
For Enterprise: Extend the Value of Your Existing Systems
If your company has 500+ employees, you probably have data tied up in multiple systems with no sufficient way to make the systems "talk to each other." You're still stuck with manual entry, spreadsheets, and workarounds to move the data through or generate reports.
But you live with the silos because it's unrealistic to rip these large (sometimes legacy) systems out that you have already invested significant time and energy in.
Fortunately, custom software can help solve that last 20% and work alongside your existing systems.
A great example of this is when a national firm builds a custom dashboard with automated or semi-automated workflows. You can design a better process to report on required tasks and statuses for each phase of a job and data is getting pushed and pulled from your core systems (like Procore).
APIs: What They Are and Why You Should Care
To create a custom dashboard, you have to connect data from different sources like your ERP, your estimating software, and more. This can feel overwhelming, but many construction software products have something called an API.
APIs allow software products to communicate with each other, or pass data from one system to another. More importantly, they simplify the development of custom dashboards, reports, or workflows– saving you time and money.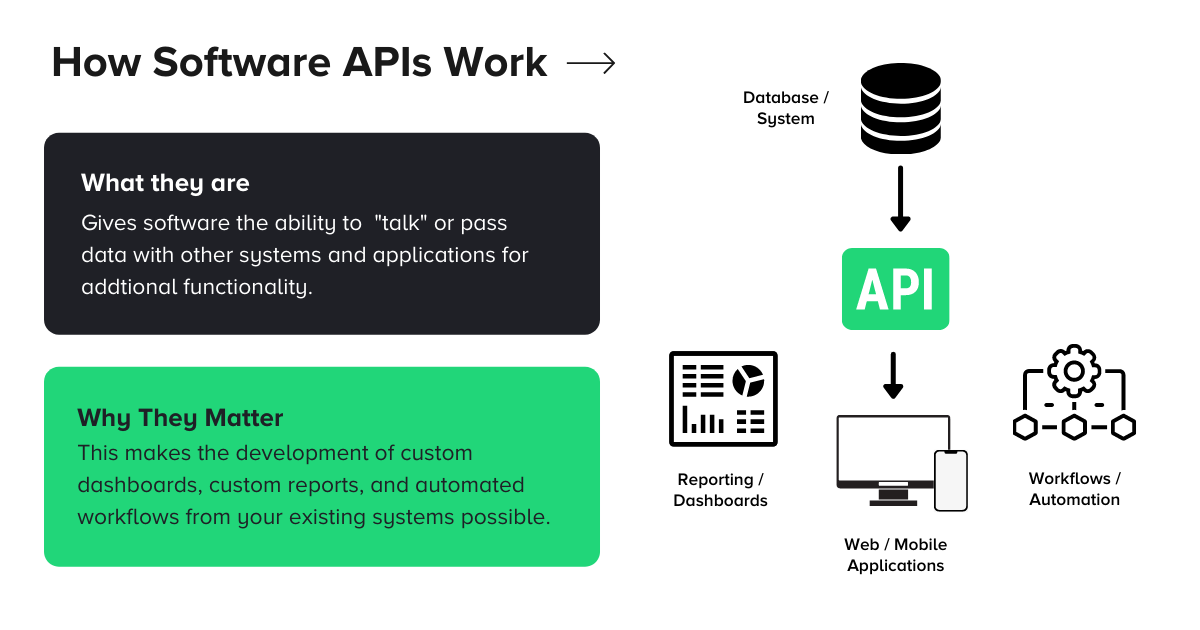 With APIs, a software developer can use a small (or large) amount of data to power a simple digital intervention. A simple screen that pops up to collect job data. An automated email with an exception report based on parameters set by company executives.
The best part? Through simple digital tools, you can extend the value of your existing systems and get the customization you need. At SPARK, our clients see 4-10x financial return in 2 years or less when leveraging APIs from their existing systems to build custom tools.
Don't Miss the Opportunity to Innovate
Outdated processes became even more stressed during the pandemic. Disconnected workflows and data silos wreaked havoc on firms.
Heading into next year, you need a data strategy to differentiate your services and thrive.
Leaders are seeing huge results with integrated workflows. And unlike before, it's feasible (even for mid-sized firms) to use developers to build custom tools or connect systems with APIs.
Don't have access to a development team in-house? A construction-savvy partner can build software that will actually future-proof your plan – unlike that digital duct tape.
>