85% of Americans own a smartphone. And, 79% of adults keep their cell phones near them almost 22 hours each day.
It's clear that smartphones and tablets are part of our daily lives. It's now hard to imagine any business being successful without a mobile device strategy.
But business owners are still trying to figure out how to best leverage mobile to reach and interact with their customers.
Should you invest in a mobile responsive website or app? How are they different? Why does it even matter?

The Difference Between Mobile Websites and Apps
The truth is that mobile websites and apps are similar and can complement each other. However, you generally can't substitute one for another.
For most modern businesses, you need a mobile responsive website (explained more below). The majority of today's web traffic now comes from mobile devices. When customers search for you online, your website is the first impression of your business (and it should be a good one).
But it's reported that 90% of mobile device usage time is spent on apps. And users have an average of 35 apps installed on their smartphones.
So to complement your website, you can also create apps. An app can serve as the same experience as your website or it can create a unique and different online experience. Either way, some users prefer to use apps since they can access them anytime, anywhere.
For example, think about how often you check your email on your phone. While the app experience isn't different from on the web, it's hard to imagine not being able to use your phone from your couch or on-the-go.
In other cases, a business might start with a mobile app. For example, if your product is a mobile game or fitness app, the experience is better suited through an easy-to-use app.
But the question for most businesses is, when does it make sense to have an app in addition to a mobile website?
Keep reading to learn the key differences of mobile websites and apps and the advantages of each.
What is a Mobile Website?
A mobile site today usually means a responsive site that adapts to look good on whatever screen size is being used to view it.
But not all websites are easy to use on smaller screens like smartphones and tablets.
Responsive vs Non-responsive Mobile Design
In a way, you can access any website on a mobile device. All sites consist of a series of browser-based HTML pages that are linked together. But if the site is not designed for mobile display, it probably won't look good or function well.
This is called "non-responsive" website design. When you try to display a site designed for a desktop screen size on a smaller screen, it can have messy page elements like text that's too small to read or graphics that expand the page width. It makes your site difficult to use.
In the past, designing mobile-friendly sites took a lot of time and effort. It often required software developers to write special code and maintain it. That's why a lot of older or dated sites aren't mobile-friendly (and require an upgrade).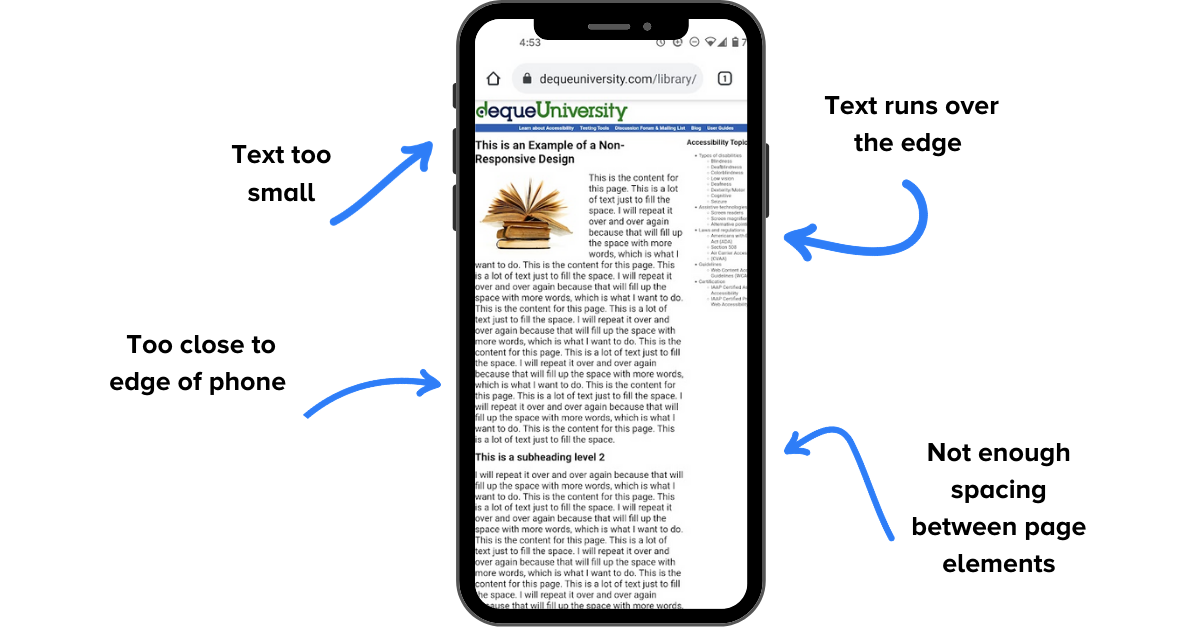 To fix this, most modern websites are now "responsive" or "mobile-friendly." This means that the site is designed to automatically adapt the sizing and formatting of the page elements (graphics, text, spacing) to display well on a small screen like a tablet or phone.
Here's the same homepage displayed on different screen sizes.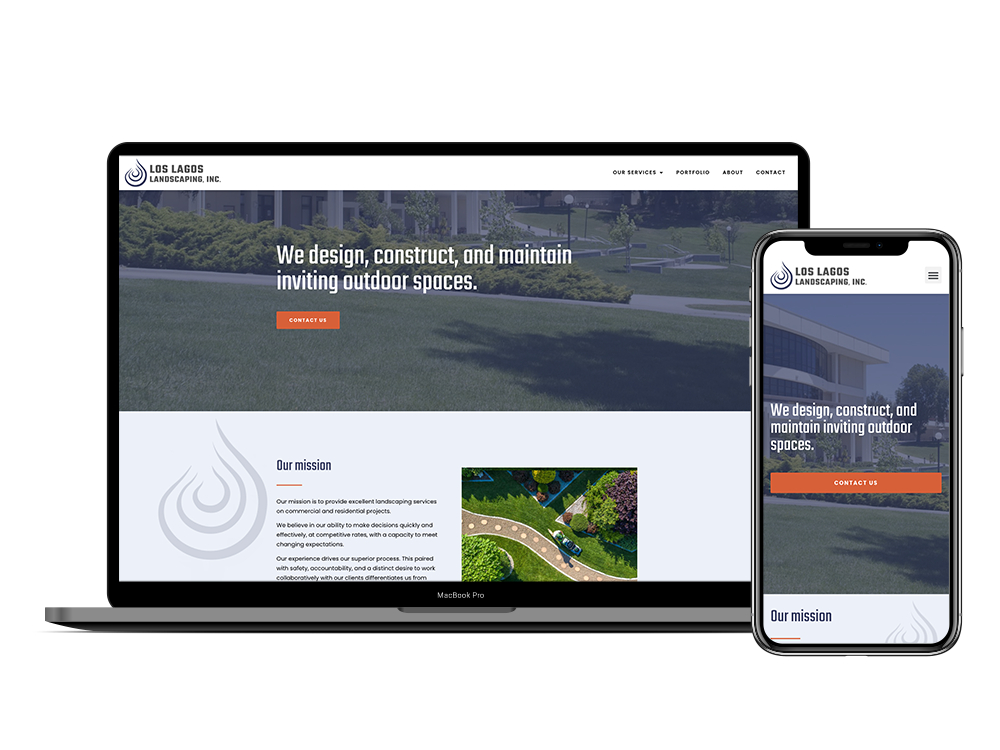 Today, a mobile-friendly site is table stakes for any company doing business online. Fortunately, responsive design is now out-of-the-box functionality for popular website builders like SquareSpace, Shopify, WordPress, Wix, and more. So there's no excuse anymore for not having a responsive website.
What is a Mobile App?
In addition to mobile websites, many companies also build mobile apps for a different type of user experience.
Apps are software applications that are downloaded directly to the mobile device through the phone's app store like Apple's App Store, Google's Play Store, Samsung Galaxy Apps, or Amazon's App Store.
Custom mobile apps can be built for all sorts of purposes.
Type of Mobile Apps
Here's some of the most popular apps across different categories.
Social Media: Instagram, TikTok, Snapchat, Facebook, Twitter, Pinterest, YouTube
Retail: Amazon, Target, Walmart, Kroger
Business: Zoom, Slack, Gmail
Financial: Chase, Mint
Fitness: Peloton, Map My Run, Nike Training Club
Music: Spotify, Apple Music, Pandora, Tidal
Games: Candy Crush, Farm City
Media: Netflix, Google News, Flipboard, YouTube TV
Businesses can also build custom apps for internal employees. For example, SPARK built an app for CSM Group to help improve their employee experience. It includes features like company news articles, expense approvals, time entry, helpdesk tickets, and other HR resources.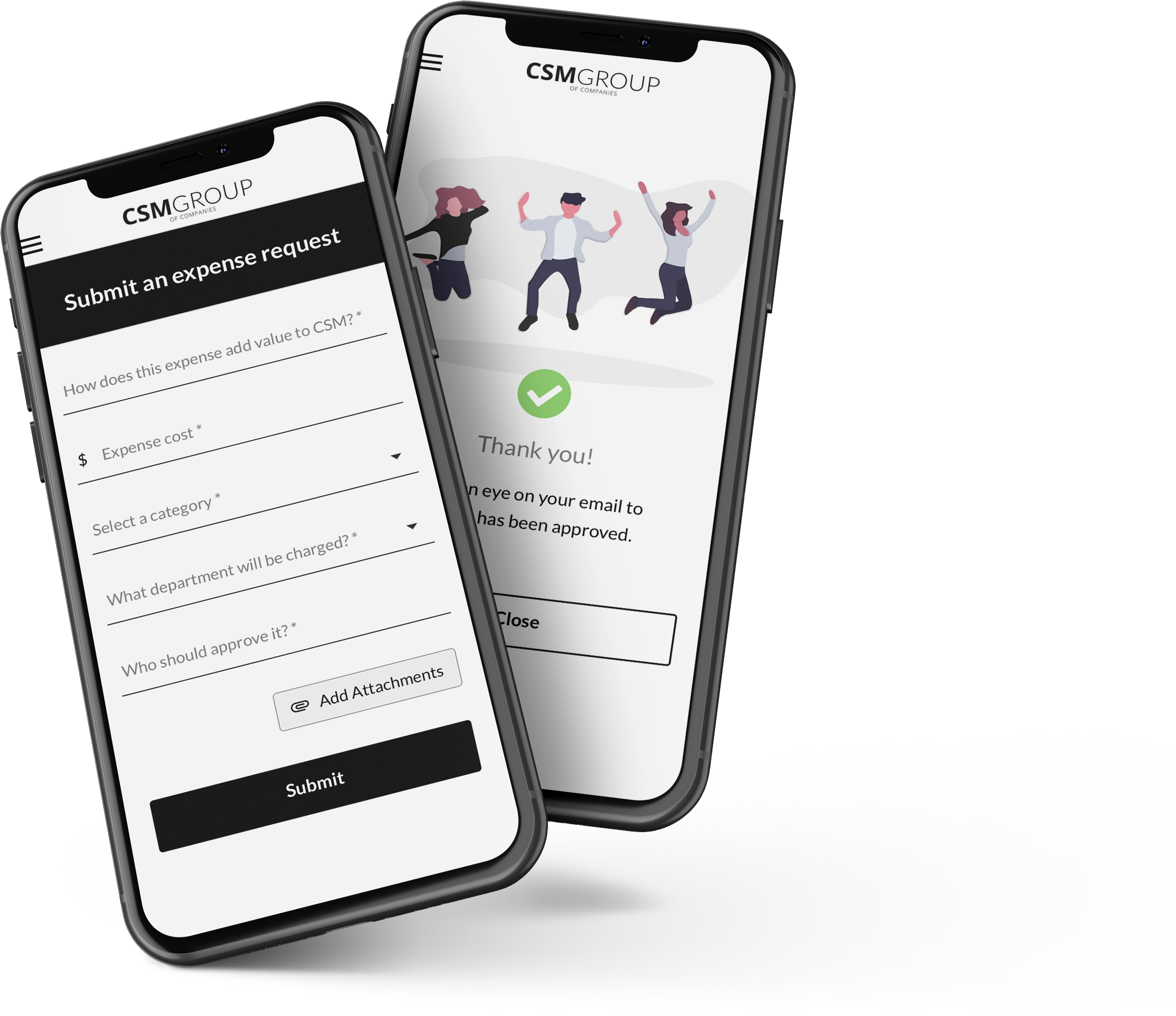 Read stories about successful business tools launched with SPARK →
Mobile App vs Website: How to Compare
Both mobile apps and websites are widely used. But they can offer different experiences that users want. Most apps include functionality that are available on a website or desktop application. But they can also include more features that enhance the mobile experience.
Consider these areas when comparing whether building a mobile website and/or app.
1. User Experience
Mobile websites and apps have different user experience possibilities. See how.
Personalization
In general, apps give you more options to create a personalized experience. Users can set and save their preferences in the app. Through data tracking, apps can make relevant recommendations based on location, usage, interests, etc.
For example, a fitness provider might provide their workout videos on their website. However, the app could give you additional functionality to mark certain workouts in a "My Favorites" list so you can access the best workouts quicker.
Notifications
One of the biggest advantages of apps over mobile websites is sending push notifications.
Using these pop-up messages on mobile devices is a great way to drive user engagement. You can send timely updates based on activity (type of personalization) and prompt users take action when needed.
Mobile websites don't automatically allow you to send notifications to your website visitors. Instead, you need to use an additional push notification service and have users opt-in. Or rely on collecting their email addresses and sending notifications to you.
Apps allow you to easily send push notifications to your users. When a user installs your app, they're automatically able to receive notifications (and can still opt-out if they want). App publishers can send them any time, even when the user isn't in the app.
Click-through rates for notifications can vary by industry. Some rates are as high as 40% (utility and financial) to 12% (eCommerce and retail). When used correctly though, they can become part of your user's normal routines.
Usability / Availability
One advantage of mobile websites is that they can be accessed on any mobile device, as long as there's any internet connection. But the same mobile app can't function on devices with different operating systems (Apple iOS or Android). This means that the app provider has to build two separate versions of their app.
On the other hand, apps can have some of their functionality available even if you're offline. Think about how you can use a gaming or reading app when you're stuck on a flight.
Speed
Apps can be faster than mobile websites. One reason for this is that apps often store key data on the mobile device itself. So, they don't need to wait for a web server to respond.
There are some animation elements that can be fast and seamless on an app that would be slow or even impossible on a mobile website. Also, if heavy computing is required, apps will work faster than mobile websites.
Features
Unlike mobile websites, apps have access to the mobile device's built-in capabilities like GPS, camera, and phone calling. For example, a retail app can use the phone's camera to allow you to scan barcodes in store for pricing or product information.
Some more ambitious apps are experimenting with 3D and augmented reality (AR).
For example, Ikea has an AR app that allows users to test out their products online, but in their own homes. It allows users to place 3D and true-to-scale items to imagine how they'd fit.
Overall, there's more opportunity for cutting-edge features in mobile apps to provide a totally unique experience for your users.
2. Development Time
In general, apps take a longer time to develop than websites. As mentioned above, most websites now offer responsive sites right out-of-the-box, without writing any code.
If you develop an app, you would partner with a software development team to understand your project, decide on requirements, and then build the app. Over time, you'll also need to build different versions of your app: one for iOS and one for Android.
3. Cost
Mobile websites can be more cost-effective than apps for a few reasons. First, there are more experienced web developers on the market than app developers. It can be easier to find affordable resources to build a site over an app. There's also options like SquareSpace that allows anyone, even non-technical people, to build responsive websites.
Mobile apps though can be more complex to build and thus more expensive. You could need to build everything twice (once for Android, once for iOS). And you could want to add more complex features like AR that will take more time and effort to build.
However, mobile apps are often a strategic move to grow your business and worth the investment.
4. Support and Maintenance
Over the long run, a website can be easier to maintain than an app. When you want to make an update, you only need to update a single source of code to instantly publish it to all devices.
With apps, however, you typically need to maintain two different versions of the app. When the operating systems (iOS and Android) are updated, as they are frequently, you may need to commit significant resources to update your app to comply with. Failure to do this could cost you engagement and shrink your user base.
Also, when you want to update the app, you need to submit your updates through the Apple or Google portal and wait to get approval. Apple or Google might request that you make changes to your updates. Then, when your update is approved, you will need your users to approve the installation of the update on their devices.
5. Marketing
For any mobile website or app, you need to promote it to gain new users and grow your business. But a mobile website can be easier to market and gain traction with first-time users.
Websites are found through search engines like Google. So, you have the possibility of generating some leads and customers through search engine optimization (SEO). Unlike apps, users also don't need to download anything. It's less friction involved in getting them to use the website.
Users can search for new apps through Apple's App Store or Google's Play Store. But they don't use these search engines as often as the internet And apps require users to take the additional steps of downloading and installing the app before they engage with it.
Because of this problem, most apps do have a responsive website that can be used as a marketing tool. It still allows users to find the product in search engines, but then the main call-to-action on the website is to download the mobile app.
Spotify is a good example of this technique. Their website also allows you to manage your account or learn more about the company.
While marketing a stand-alone app can be challenging, it can be worth it. Having your app's icon on a mobile device is a branding opportunity. It acts as a mini advertisement that users see every time they're on their phone (which is a lot).
When to Build an App and How to Do It
As mentioned above, for most companies, it makes sense to start with a mobile website then build a mobile app.
But it all depends on what type of user experience you're trying to provide and how you want to interact with your users.
Here's a few examples of how SPARK helped businesses build both customer-facing and employee mobile apps.
For any software project, success often comes down to picking the right development partner who can align their development process with your business goals.
At SPARK, when building a new app, we recommend starting with a minimum viable product (MVP). Building an MVP is a cost-effective way to test your app idea and validate it with real users.
Ready to create a mobile website or app to grow your business? Chat with SPARK so we can see how we can help!