"Design Thinking" is an innovative design process used by some of today's leading brands such as Apple, Google, and Samsung to develop products that customers love. By working with a design and development partner that embraces Design Thinking for your next website project, your company can delight your online visitors and help grow your business.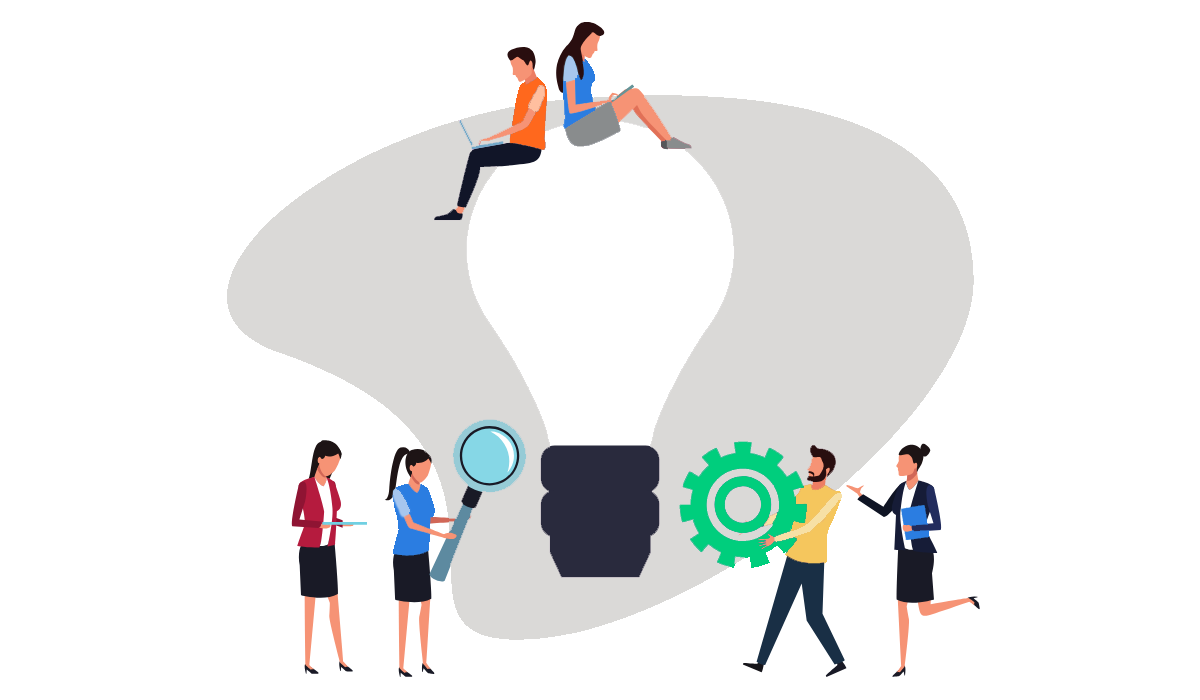 Design Thinking is a way of thinking about designing products and services that has taken over the design world in recent years. Leading consumer technology brands are some of the world's best Design Thinking practitioners. They design products that are easy to use and that customers love. Design Thinking is taught and embraced by Harvard, MIT, and Stanford's famous d.school (design school).
So, what is Design Thinking? It is a process or a methodology for designing products such as websites.
Principles of Design Thinking
Like any process or methodology, people define what Design Thinking means in slightly different ways. But there are a few key principles that most agree upon:
1. Design should focus on the real needs of the users of the product.
2. Assumptions should be challenged and problems should be redefined to generate solutions that aren't immediately apparent.
3. Proposed solutions should be tested and iterated upon often.
We embrace "Design Thinking" here at SPARK when we design new websites for customers. We believe it is the best way to give your website users a great experience, making your website a valuable business asset.
Having A Website That Looks Good Isn't Enough
This embrace of Design Thinking distinguishes us from other firms that could design a website for you. The truth is that many agencies can design a website that looks good. The challenge is that many focus too much on coming up with designs that they think are great. But their designs often don't meet the real needs of the website users: prospects and customers.
Their designs might impress their designer friends. Maybe they'll get nominated for a design award. And when you see the site they design for you, you might think, "Wow, that looks really good!"
We like to call that approach "making pretty pixels." It isn't all bad. But the result falls short of what a website can and should be, one that was built using a Design Thinking process.
Don't get us wrong. Website aesthetics are important. And, yes, SPARK has designers (and pretty darned good ones, we'd like to think). But at a deeper level we are business leaders and consultants who happen to have design and development skills. When we work with you, we really try to understand your business and your users' needs.
How We Use Design Thinking in Website Design
When you work with SPARK, we will be digging deep to get the best possible understanding of your company. We have more technology and business process experience than most design agencies and we put that knowledge to work for our clients.
Our approach to designing websites is holistic. Our focus is on how a website's design can affect a client's business. We seek to understand our customers' goals and website users. So, when you hire us, you aren't just hiring a design and development firm. Rather, you are hiring a partner who thinks about your organization holistically and tries to solve your business problems through your website. What most people think a designer does is almost secondary to us.
SPARK has a comprehensive and structured design playbook that we follow when working on a new website project. Much of the playbook consists of exercises we do together with you so that we get a deep and comprehensive understanding of your business and your customers. Some examples of the exercises are brainstorming sessions with you, developing user personas, mapping the user journey, and performing competitive analysis.
Following our playbook is part of our methodical and strategic approach to website design. We don't do all our playbook exercises with every client. That would take much too long. Instead, we only do the exercises that are relevant to each project to efficiently and comprehensively gather the information we need.
One of the most important exercises from our SPARK playbook is the user interview. During the user interviews we perform, we get a deep understanding of your website users' needs, desires, and pain points.
The site users are the stakeholders we focus on the most. In fact, our focus on giving our clients' website users a great experience is reflected in the titles we give our designers. We have no "web designers," only "UX (user experience) designers."
When companies approach us to discuss their website needs, they sometimes don't know exactly why they need a new site. Occasionally they think, "Everyone else has a website, so I guess I need one too," or, "Our site is kind of old and maybe we should make it more modern." There's nothing wrong with those reasons, of course.
But we will always push more and discover together with them how a new site could potentially add value to their business. We know that a website, if done right, can be a true business asset that generates ROI for years: more calls, more leads, more sales.
Reach out to see how SPARK can use design thinking to improve your website →
The Importance of Feedback, Iteration, and Testing
When you work with SPARK on a website redesign or a new website, we will share our design work with you early and often. We aren't going to have a meeting or two with you and then disappear for months at a time only to emerge out of our creative cave when our designs are complete.
We prefer to get your feedback and input early so we can design the best possible site for your users (and make it easy for your team to manage once launched). The SPARK approach is more collaborative and more effective. And it just makes sense. You know your business and customers better than we ever will, so your input is always welcome and needed.
This iterative approach is also reflected in the way we scope our website projects. When possible, we like to keep the initial project scope as small and narrow as we can. This is in sharp contrast to many of our competitors who often push to expand a project scope to be as large as possible.
Why do we like to start with a narrow project scope?
It is just another way we embrace Design Thinking's emphasis on addressing the real needs of website users. When we start with a small scope for a new website, we can quickly get valuable feedback and insight from the site's users. That feedback is extremely valuable and helps more than anything else to make sure the site is addressing the real needs of its users, giving them a great experience of your website and your business.
We want to get your audience using the site, learn from them, and make adjustments as quickly as possible. Of course, this approach of starting small isn't possible for all sites. But when it is a good fit for the project, we like to do it.
Your website is not separate from the rest of your business, but is (or can be) an integral part of your business. And your website can only meet your company's needs and solve its problems if it is designed and developed by a partner willing and able to understand your organization as a whole. When you work with a firm that embraces Design Thinking like SPARK does, you will get a website that meets the real needs of your prospects and customers. It will provide true value to your business.
Ready to develop a user-focused website that will be a business asset for years to come? Please reach out! We'd love to hear from you.